WAYNE MOORE (Part 5)
The 70's
"The Reasons"
Stan Pratt, Wayne Moore, Gib Guilbeau & Eric White

Gib and Wayne remained together and assembled a new band "The Reasons", which included various musicians from time to time. Eric White (brother of Clarence and Roland) on bass, Bob Warford - a Clarence White sound-alike - played lead guitar for the group while Chuck Morgan came in on keyboards and either Dennis Morse or Stan Pratt played drums. They played rock'n'roll and country. During this period Gib and Wayne developed a regular comedy routine with the group which was apparently well received. Dennis Morse recalls the skit: "I tell you, Wayne Moore and Gib used to do a comedy skit about this guy Mr.Custer or something, and they had the people rolling on the floor. Wayne was really a good comedian and a picker and an excellent singer". They played all the popular clubs through out the California area.

Wayne left "The Reasons" for a brief period to tour with country singer Garn Littledyke about which Eric White says: "Wayne went to Vegas to make the big time and that lasted about three months...".


Disillusioned with his Nevada experience, Wayne returned to Palmdale where Gib Guilbeau hired him as lead and rhythm guitarist. Eric White, who had replaced Wayne on bass in Gib's band earlier, said : "Wayne had been a lead player years before. He was all right for the oldies but goodies type rock n' roll - Chuck Berry type stuff - but he didn't really like playing lead".
The band continued to be a training ground for many aspiring musicians. Freddy Weller, on the recommendation of Clarence White, had already hired Bob Warford in 1969 to tour with him, and soon Linda Ronstadt was dropping by to see the band in Palmdale. Looking to put together a country-rock backup group, Linda offered Gib, Eric White and Stan Pratt a chance to go on the road. Linda already had John Beland lined up as her lead guitarist so consequently Wayne was excluded. "I was playin' rhythm guitar so I told 'em, 'Take it', you know" says Wayne. This country-rock band was named Swampwater.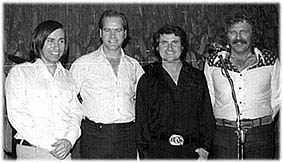 ?, Garland Frady, Wayne Moore & Dennis Morse

Wayne also played with Garland Frady at the "Jack 'O Diamonds" club in Palmdale in around late 1970 to early 1971. (Wayne played again with Garland Frady 1975.)
The nucleus of the band was ex-Tex members Herb Steiner (steel), Boomer Castleman (lead guitar & vocals) and Stoney Stonecipher (drums), with Wayne Moore on bass. The name of the band was "Garland Frady and the Outlaws."

Note: Owens Boomer Castleman was known as Boomer Clarke during the sixties as a member of "The Lewis & Clarke Expedition", as was "Michael Martin Murphey" who was calling himself Travis Lewis at the time. In the late 1960s the "Lewis & Clarke Expedition" had split, but Castleman and Murphey continued to work in a variety of projects, the last was a country-rock band named "Tex".
The group was Herb Steiner on steel (ex-Linda Ronstadt's Stone Poney's), Stoney Stonecipher on drums (ex-Dave and Lu Spencer), Murphey playing bass, and Castleman was on lead guitar. Tommy Allsup produced six sides on them for the Metromedia label, all unissued.
Michael split from the group in 1970, later moving to Texas in 1971. The rest of the group teamed up with Garland Frady and worked the "Jack O' Diamonds" where they added Wayne Moore on bass.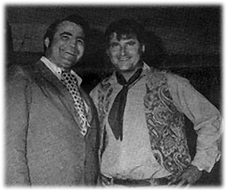 Jack Reeves & Wayne Moore

There was a big earthquake in February of 1971 in Los Angeles, Stoney and his wife Wanda moved from North Hollywood, CA to Oregon the following day, Feb.10, 1971. Garland Frady, Steiner and Castleman continued to work the bar scene around California, Steiner left in 1972 for a variety of Texas bands (Jerry Jeff Walker, Alvin Crow) and played with "Jimmy Lawton and the Lawmen" with Ed Ponder, Monte Paul and Dick Trees. Castleman split for Nashville in September 1974.
Note: Ed Ponder became a member of the Flying Burrito Brothers 1976!

Shortly thereafter, Wayne took a break form music. After a welcomed rest with family in Richmond/Indiana, he returned to Los Angeles in 1972.

Next stop for Wayne was a guitarist/bassist with "Jack Reeves", a local singer who Eric White describes as "an imitator. He could do a lot of country artists, Elvis, you know, and put on quite a show".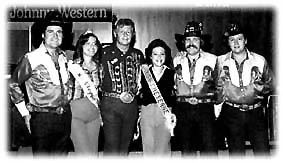 "The Johnny Western Band"
Wayne, Johnny, Robert & Art
with Beauty Contestant Winners

Along with Dennis Morse on drums, Eric White also joined Wayne in Reeves' band. (Eric had been eased out of Ronstadt's band in favor of Thad Maxwell). Reeves did quite a bit of recording locally and cut a single of one of Wayne's song, "Six Million Teardrops", at which time he won the "Academy of Country Music Comedian of the Year" award.
See two pictures with Wayne Moore on Jack Reeves' own web-page. (The first picture with Wayne was taken at "Cal's Corral", a club in Lawndale, California 1972. Jack and Wayne worked there for about a year. The second picture with Wayne on the Jack Reeves' page with Glen Campbell and Charo was taken at a celebrity basketball game held in Beverly Hills, California about 1973.)

Johnny Western
CD Box Set

1974 Johnny Western, who wrote and performed "Have gun will travel" theme song for the CBS T.V. series "Paladin", invited Wayne to go on the road and record with him. Wayne picked up the fiddle during this time and would add it to Western's shows as well as a comedy act.

Johnny Western, Wayne says "Is one of the greatest guys in the world to work for. They toured for about a year then took time off the road to cut an album titled "Johnn Western" (38389) produced by Johnny's long time friend "Johnny Cash". Wayne played bass and sang back up along with Jim Glaser, Robert Silver and Art Sparer and the "Nashville Edition".

Note: A few songs with Wayne Moore are available on the CD Box Set (3 CD's): Johnny Western "Heroes & Cowboys" (BCD 15552) released by Bear Family Records.


McCloud TV Series "Country Sunshine Band"
Joe Sola, Wayne Moore, Sharon Leighton
Dennis Weaver, John Blakenship & Doug Vaughn

1977 Wayne took a break from the road to work the Nashville West club with Sharon Leighton and Country Shunshine band which included Johnny Blankenschip, Joe Sola and Doug Vaughn.
At this time the group appeared in a movie for Universal Studios, "The Moscow Connection" starring Dennis Weaver featuring Hoyt Axton for the "McCloud" TV series. (McCloud: 7th Season 1976 - aired Jan. 23rd 1977 - The Moscow Connection - 90 min).
Vern Gosdin & Wayne Moore

Also around that time (late 70's), Wayne went to Nashville to see old friend Gary Paxton who had become a successful country and gospel producer. Wayne was interested in getting some of his songs published and perhaps recorded but little happened. While in town though, Wayne ran into Vern Gosdin who Paxton was producing. Vern convinced Wayne to join his band but the association was brief and Wayne returned to Palmdale after several months.

Not long after Wayne left Nashville, an album appeared in 1978, which credited three songs to Wayne Moore. The record was titled "Country Premier" and was released on the Christensen label, distributed by Album World out of Nashville.

The songs that list Wayne as vocalist are: "Drowning My Sorrow", "My Lastest Sin" and "Lonely World", all of them very good country songs but unfortunately not by Wayne Moore of Nashville West. Mysteriously, Wayne's "Six Million Teardrops", credited to Gene Humphrey (but also NOT Gene Humphrey), is on the album as well as two cuts by Gib Guilbeau which previously appeared on the Shiloh label. Wayne, after listening to the songs, was adament that the vocalist was not him and after repeated playings, it's clear that this is indeed a different artist.
Go to the table of contents again | ............. continue the Wayne Moore biography