WAYNE MOORE (Part 6)
The 80's
Jeff Wilson, Mark Cohen & Wayne

In 1980 Wayne formed his own band which mostly consisted of members from the group "Pure Prairie League".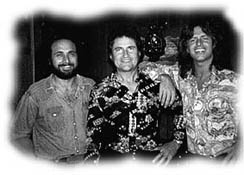 Mark Cohen, Wayne & Jeff Wilson

They included Jeff Wilson, Mark Cohen and Vince Gill who would set in often.

In late 1980 Wayne remarried and moved to Albuquerque/New Mexico.

While playing a local club Wayne ran into old friend Vern Gosdin. With several songs near the top of the charts, Vern asked Wayne to join his concert tour as bass player and backup singer. While with Vern, Wayne appeared in several network T.V. shows in Nashville, including "Nashville Now", "Crook and Chase" and "New Country".

Having to spend a fair amount of time in Nashville, Wayne frequently stayed with Gib Guilbeau who was still attempting to keep the Burrito Brothers going. Gib was interested in bringing Wayne into the group but in the end, told Wayne to remain with Gosdin as the future of the former group was shaky.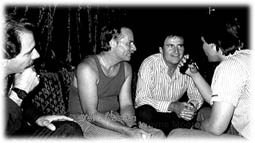 Pete Scaltrito, Vern Gosdin
Wayne Moore & Hugh Wadell

Vern Gosdin was also interested in promoting Wayne's career and wanted to do a recording session as producer of his bassist but unexplicably, nothing materialized.
Yvonne & Wayne

Note: As is generally the case with most Nashville artists, Vern Gosdin's producers always used a studio band on his recordings so Wayne's bass work or singing never graced a Gosdin record.

In the end, working steadily on the road, "making little money and spending a lot of time away from home", Wayne dicided to return to New Mexico.

During the 80's and 90's Wayne worked with several bands:

In the mid 80's with "Sharmin and Golden Country", later with "Kurt Kelley's Black Heart" and since around 1987 with "Bill Kelley's Nite Rider Band". They played mostly local clubs and special events around New Mexico, like fairs and rodeos.

Note: Bill Kelley's dad had a band named "Arizona Niteriders" in the 50's, that's where "Niterider" came from. It's a cowboy that rides herd on the cow's at night, he will sing cowboy songs to sooth the cattle.
"NITE RIDER"
| | | | |
| --- | --- | --- | --- |
| Bill Kelley | Wayne Moore | Edna Martin | Richard Martin |
Nite Rider Band with members of "Little Texas"
(Brady Seals & Tim Rushlow)

Bill Kelley remembers first time playing with Wayne:

"I think the first time we played was in 87. I had sat in with him and my brother a few times. One thing you might find interesting, we have never had a formal practice session, all I had to do was tell Wayne what key it was in, the first time I sang "Way down deep" I almost ran out in the audience and clapped with the croud, Wayne did the high part so perfect it was a thrill to have Verns (Gosdin) actual harmony singer and bass player on the bandstand every nite."

Note: The last time Wayne was playing with Bill Kelley's "Nite Rider Band" was May 2000!

Bill Kelley says about Wayne Moore:

"Wayne opens his doors for any one at anytime, he works tirelessly at all he touches, till it has his blood running through it. I am always constantly calling Wayne with a song idea, if he doesn't like it, he just says "yeah?". I know he doesn't like it, if he says "Hey that's good, it's got maybe a possibility of maybe getting written someday" ... LOL!!! I will just say, without Wayne there would not have been the Nite Rider Band sound".

1989 Wayne did sessions in Muscle Shoals, Alabama with the "Flying Burrito Brothers". Involved in those sessions were Wayne Moore, Gib Guilbeau, Sneaky Pete Kleinow, Wayne Bridge, Al Jones and maybe more.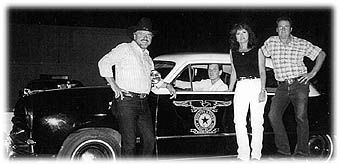 Nite Rider Band at the Police Officer Club 1988
"Bill Kelley, Richard Martin
Edna Seifert (later married Richard Martin) & Wayne"
Go to the table of contents again | ............. continue the Wayne Moore biography