GIB GUILBEAU (Part 3)
Swampwater (1970 - 1972)
Swampwater

Gib had a band with Eric White & Stan Pratt (Gib's brother in law).
With the addition of John Beland they called themselves SWAMPWATER to back firstly Linda Ronstadt and then Arlo Guthrie. Gib Guilbeau had a solo record deal and along with the other members of Swampwater he went to Albuquerque, New Mexico to cut an album which evolved into a group effort, becoming the first Swampwater album. However, just before the sessions, Eric White left the band but stayed on as the band's road manager. John called up his old friend Thad Maxwell to take over the bass in the band. Swampwater recorded two albums:

Swampwater album 1970
- SWAMPWATER: Swampwater (King KS 1122)
re-issued on CD on One Way Records in 1995 (OW 30994)
with: Gib Guilbeau, John Beland, Thad Maxwell, Stan Pratt.

This album was recorded in two days on a four track machine in New Mexico.

Note: Gib's song "Big Bayou" from that album was also recorded by some favorite musicians. The most obvious source would be Bobby Womack's cover on his "Black In The Saddle" LP - originally scheduled for release in July 1974. The album was delayed for two years, eventually coming out under the title "Bobby Womack Goes C & W" July 11th 1976. "Big Bayou" was also recorded by both Ron Wood and Rod Stewart. Rod recorded his version after Wood had played the song on the Faces eleventh (and last) US tour. Rod was a big Bobby Womack fan as Ronnie so he could have picked up the song from either source. Wood's recording was released on "Now Look" which was issued on 3rd July 1975. Rod put his version on "A Night On The Town" issued in 1976 on Warner Bros.

At least 2 singles were released by King:

Swampwater singles
- SWAMPWATER: Louisiana woman / River people (King 6345)
- SWAMPWATER: Take a city bride / It's your game, Mary Jane (King 6376).
Also 1970 SWAMPWATER were musicians for an unreleased JOHNNY DARRELL song produced by Larry Murray in Nashville:
I'd rather be at the Grand Ol' Opry

with SWAMPWATER, Earl Scruggs (banjo) and Jimmy Day (steel guitar).

Note: The Byrds played 1970 at the "Ash Grove" and invited Gib Guilbeau on stage to sing his "Take a city bride". Byrds were Clarence White, Gene Parsons (both ex-Nashville West), Skip Battin and Roger McGuinn. Linda Ronstadt was singing "Break my mind" with the Byrds. John Beland was in the audience too. This show was released on CD 2000 as "The Byrds: Ash Grove" on the Deep Six label. Other guests on this CD are: Gram Parsons, John Hammond and Thad Maxwell. Thad Maxwell plays bass on the song Linda Ronstadt did " Break my mind". Thad Maxwell remembers: " It is one of my greatest memories, that night. I was new with Ronstadt - we had played at the "Greek Theater" that night, went to the Ash Grove after. Linda sat in, and asked to have me come up and play the bass for her tunes. So Roger, on the mic, says, "Is Thad Maxwell here?" I probably knocked over a dozen chairs and people in my euphoric haste to get to the stage!"

Larry Murray got Swampwater a record deal with RCA. They recorded a second album which got good reviews from "Rolling Stone" magazine and "Billboard" magazine.

Swampwater album 1971
- SWAMPWATER: Swampwater (RCA LSP4572)
with: Gib Guilbeau, John Beland, Thad Maxwell, Stan Pratt
guests: Glen D. Hardin, Curly Chalker, Jimmy Day, Herb Pedersen, Don Tweedy

The songs "One note man" and "A song I heard" from this album were released 1999 on the compilation CD:
One single from the 1971 album was released:
Swampwater single
- SWAMPWATER: Ooh-Wee California/A Song I heard (RCA 0585)
Larry Murray had gotten Linda on the Johnny Cash show at the "Grand Ole Opry". Linda Ronstadt, James Taylor, Earl Scruggs, The Dillards, Bread, Tony Joe White and Swampwater. Swampwater did two songs on their own as "Swampwater"!
April 1971 Linda Ronstadt was backed by Swampwater at the "Mike Douglas Show". Other guests were Rick Nelson & The Stone Canyon Band, Chuck Berry, George Carlin & Mike Douglas. Here are some pics from that show:
1971 SWAMPWATER did final sessions for RCA. Those recordings are unreleased:
Simple man

Green valley

Those songs were produced by Larry Murray at RCA studios Hollywood.
Swampwater were: Gib Guilbeau, John Beland, Thad Maxwell, Stan Pratt.
Guests: Sneaky Pete Kleinow (steel guitar), Jim Horn (flute, sax) and Paul Parrish (piano).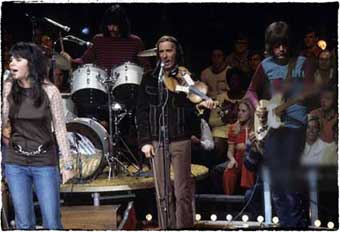 Linda Ronstadt with Stan, Gib & John - "Swampwater"

You can also hear Swampwater backing Linda Ronstadt on a live LP recorded at a Big Sur Celebration on two songs:
The only mama that'll walk the line

Lovesick blues

2 songs Linda Ronstadt with Swampwater

- Various Artists: Celebration - The Big Sur Folk Festival 1970 (Ode LP SPX 77008)
re-issued on CD 1990 (Sequel Records NEX CD 145) and 2000 (Essential ESMCD 871)
Together with Linda they played everywhere and with everyone....from The Troubadour to The Greek Theater, The original Grand ol' Opry, The Johnny Cash Show, Dick Cavette Show, The Cellar Door, The Fillmores, etc...
Note: Linda Ronstadt did her first New York appearance with Swampwater!

Note: 2006 "Capitol Records" released a double CD - "The best of Linda Ronstadt - The Capitol Years" - including the first 4 Linda Ronstadt albums with bonus tracks. One bonus track - "Long long time" - was recorded live at the Troubadour 1971 with Gib Guilbeau, Sneaky Pete Kleinow, Richard Bowden & Mickey McGee.

SWAMPWATER recorded under the name Lowell Bennett 4 LP's for Westland Records. They did it under an assumed name because Swampwater were signed to RCA at the time. On each record they did songs of a famous country star like Merle Haggard, Buck Owens, Glen Campbell and Jerry Lee Lewis. Gib did the lead vocals on the Merle Haggard and maybe Buck Owens recordings and a guy named Chuck Morgan did the Glen Campbell, Jerry Lee Lewis and maybe the Buck Owens songs.
Lowell Bennett albums
- LOWELL BENNETT: Lowell Bennett sings Merle Haggard (Westland Records ?)
with Gib on lead vocals and Swampwater


Song list:
Branded man/Okie from Muskogee/Workin' man blues/Silver wings/Swinging doors/The fugitive
Today I started loving you again/The bottle let me down/Sing me back home/Take a lot of pride

- LOWELL BENNETT: Lowell Bennett sings Buck Owens (Westland Records ?)
with Gib or Chuck Morgan on lead vocals and Swampwater

- LOWELL BENNETT: Lowell Bennett sings Glen Campbell (Westland Records ?)
with Chuck Morgan on lead vocals and Swampwater

- LOWELL BENNETT: Lowell Bennett sings Jerry Lee Lewis (Westland Records ?)
with Chuck Morgan on lead vocals and Swampwater
Note:: The Lowell Bennett albums were never released. Gib only remembers that he did the "Merle Haggard" album and Chuck Morgan others. 2000 or 3000 copies were pressed but never made it to any stores. They must be still in a garage somewhere. The Merle Haggard albums was done in one hour and the others too.
Gib was also involved together with Thad Maxwell in the soundtrack (instr.) for the movie Boxcar Bertha - never released on record!
Songs in this movie were:

Bertha's theme (Guilbeau/Maxwell)
Boxcar Bertha blues (Guilbeau/Maxwell)
Boxcar Bertha cues (Guilbeau/Maxwell)
In 1970 Gib and John Beland along with Ry Cooder and Chris Ethridge played behind Joan Baez, Pete Seeger, Odetta, Country Joe McDonald, Ramblin Jack Elliot and others at "The Hollywood Bowl" for the TRIBUTE TO WOODY GUTHRIE CONCERT. It was released 1972 as a live album (Warner 2586) that is now in the Library Of Congress.
About the time after Swampwater broke up Gib said in an interview:
"In the meantime, I was doing a lot of studio work, a lot of recording sessions. Some for Linda, some for Arlo, a lot of people that you have probably never heard of, some of them I've forgotten about. I couldn't even begin to think how many sessions I've played on or who I was with at the time. I was in and out of the studio all the time."
Early 70's Gib produced together with Thad Maxwell an album for Chuck Morgan:

Chuck Morgan album produced and with Gib
- Chuck Morgan and the Front Page: Play and sing (Alshire S-5286)
with: Chuck Morgan, Gib Guilbeau, Thad Maxwell and others
Go to the table of contents again | ............. continue the Gib Guilbeau biography | Gib album page