WAYNE MOORE (Part 6)
The 90's
"The Calvary Singers" in Vienna/Austria
Cheryl, Lisa, Mary, JoAnne, Wayne & Ferman

Poster in Vienna

1994 Wayne opened a recording studio in Rio Rancho, New Mexico where he now lives. Rio Rancho, just a few miles north of Albuquerque, is a fairly nondescript area musically compared to the bustling recording centers of Los Angeles and Nashville where Wayne Moore once worked. But it is in this quiet New Mexico community of 50.000 that the former bassist of the legendary country rock band, "Nashville West", now calls home.

1994 Wayne toured Austria and Italy with the "Calvary Singers". They did Gospel and contemporary Christian music.

He played two summer concerts with "Tiffany".

He occasionally performed with Frank and Peter Scaltrito, former members of "Tommy James and The Shondells".


| | |
| --- | --- |
| Around Christmas 1994 "The Nite Rider Band" was playing in a club out in the mountains. An old log cabin in the pines called "The Ponderosa". Gib Guilbeau was playing with the band that night. The picture right is Wayne Moore on bass, Phil Howard doing lead vocals, Gib Guilbeau on fiddle, Richard Martin on drums, Bill Kelley on electric guitar and Edna Seifert on vocals. (Note: Edna Seifert married Richard Martin summer 2001, now Edna Martin). Also playing that night on bass was an old friend of Wayne and Bill "Skip Bacheler". Wayne invited him out to the club there, he is an old "Burrito" fan and wanted to set in. | |
Nine of Wayne's original tunes were recorded and released on a CD 1996 by a local (Albuquerque, New Mexico.) singer, Rita Mitchell. Title of this CD is "Lucky Love". Wayne also did harmony vocals on that album. Other musicians were: Andy Pling, Dave Henderson, Sid Fendley, Steve Maase, Harold Garcia, Katie Gill, Bobby Goldstein, Chuck Back, Scotty Burns, Joe Sais, Darrell Andres Dominguez. Album produced by Gary Garcia.
Track list:

Shouldn't be together (Wayne Moore-Joanie Camp)
You have everything (Wayne Moore-Joanie Camp)
Lucky love (Wayne Moore-James T. Grouthaus)
Current affair (Wayne Moore)
How many heart aches (Wayne Moore-Troy Hope-Joanie Camp)
Home is where the heart is (Wayne Moore-Troy Hope)
You got me by the heart (Wayne Moore-Joanie Camp-Troy Hope)
You're no longer in my dreams (Wayne Moore-Joanie Camp)
Cuando calienta el sol (Michael Vaughn-Mario Rigual-Carlos Rigual)
Cuantas veces (Wayne Moore-Troy Hope-Joanie Camp)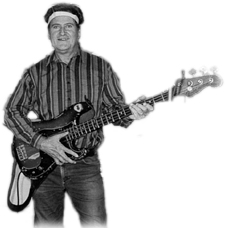 Around 1997 Wayne recorded a few songs with the Nite Rider Band (he's playing with that band since 1987). Wayne, Bill Kelley and Joanne Kamp wrote "Hero to zero", it was a song Bill had written. Wayne re-wrote the second verse and Joanne did some lines in the last verse, Wayne played all the music except the lead, Bill played that, then Wayne and Joanne did all the backup vocals and arrangement. Bill wrote "Whisky" and played lead, Troy Moore sang harmony, Wayne did all the rest. These songs and a few more were never released! Mostly the music they recorded in Wayne's studio was for promoting Nite Rider and practice.
Bill Kelley remembers why they recorded "Hero to zero":
The reason we recorded it was Wayne and Joanne asked me to play lead on a song they were working on, I said I'd love to, all I would ask in return is that Joanne sing "Hero to zero" for me, she did and it came out great. There is about six songs we were working on, Wayne did "Blue suede shoes", I did "Whisky, I'm gonna put you out of my misery" Edna did "Keep me from blowing away", Joanne did "Hero to zero", there was another band member then, Fred Mullerude, he sang an original song, and we did a medley of old rock songs. Then Fred left and Richard Martin took his place as drummer".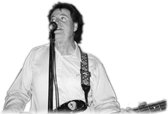 The reason why the "Nite Rider Band" stopped playing was Bill Kelley had back surgery. He had complications, now he's recovering, but Bill can't stand long and play, thats when Wayne joined a bluegrass band.
1997 Shiloh Records released a CD titled "A Treasury of American Railroad Songs, Ballads and Folklore". This CD contains various artists but Wayne sings seven songs, one with Gib Guilbeau. CD was recorded at "Wayne Moore Studios" in Rio Rancho, New Mexico, Rick Cunha's studio "The Rainsbow Garage" in Van Nuys, California and "Swallow Recording" in Lake Elsinore, California. Wayne Moore and GIB GUILBEAU were music directors of this CD. Concept & executive producer Dale Davis, director of research Gene A. Humphrey. Music producers: Wayne Moore, Gib Guilbeau, Dale Davis, Greg Harris, Marty Cooper, Rick Cunha and Larry Robinson.
A Treasury Of American Railroad Songs, Ballads And Folklore
- Various Artists: Treasury of railroad songs (Shiloh SCD 4097)
Musicians: Wayne Moore, Gib Guilbeau, Greg Harris, Maxine Anderson, Pamela Berry, Marty Cooper
Rick Cunha, Shawn Davis, Bence Higman, John Jarvis, Bill Kernodle, Roy Langston, Greg Leisz
Rick Littlefield, Mike Masters, Jamie Olsen, Wille Ornelis, Dennis Parker, Larry Robinson
Art Rodriguez & Jerry Swallow.
1. Wayne Moore - Frisco's Tomy Tucker
2. Rick & Marty - Burlington Zypher
3. Gib Guilbeau & Wayne Moore - The Canonball
4. Larry Robinson - Navisky
5. Wayne Moore - Old Horny Toad
6. Larry Robinson - City Of New Orleans
7. Wayne Moore - Greenlight On The Southern
8. Gib Guilbeau - Cajun Train
9. Greg Harris - John Santa Fe
10. Rick & Marty - Pan American Boogie
11. Wayne Moore - Old Train
12. Gib Guilbeau - Wabash Canonball
13. Larry & Bill - North Coast Daylight
14. Jamie Olsen - The Night They Drove Old Dixie Down
15. Gib Guilbeau - Lordsburg Ladies
16. Wayne Moore - Greenville Trestle
17. Greg Harris - Orange Blossom Special
18. Wayne Moore - Ballad Of The Frisco
19. Mike Masters - Verde Valley Line
20. Jamie Olsen - Hobos Lullaby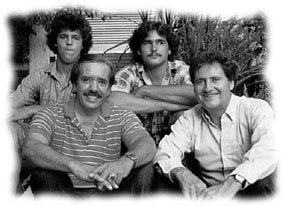 Sons Doug Moore & Wayne J. Moore
Darrell Cotton & Wayne
Go to the table of contents again | ............. continue the Wayne Moore biography