Country Gazette (Part 4)
The solo albums / 1975 - 1977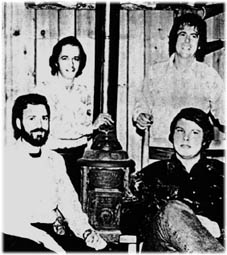 Country Gazette - 1975
Munde / White / Bush / Ferguson
In July 1975 Country Gazette (Munde, White, Bush & Ferguson) performed at the "Montreux Jazz Festival" in Switzerland.
Alan Munde recorded a solo album summer 1975 with the title "Banjo sandwich" in Ft. Worth for the newly formed Ridge Runner label. Musicians on that album were Gazette members Roland White, Dave Ferguson, Roger Bush and guest Doc Hamilton. For this album they recorded Sneaky Pete Kleinow's (original Flying Burrito Brothers member) "Beat the heat".
Ridge Runner

ALAN MUNDE: Banjo Sandwich

Ariola

- ALAN MUNDE: Banjo sandwich (Ridge Runner 0001)
Produced by Mike Richey
with Alan Munde, Roger Bush, Roland White, Dave Ferguson & Doc Hamilton

Side A: Whisperin' George/Dear old Dixie/Blackberry blossom/Darcy Farrow/Durang's hornpipe/Banjo boy chimes
Side B: Sally Johnson/Sleepy eyed John/Blue Ridge express/Sail away ladies/Doc's riverboat reel/Beat the heat/Remember me
Note: "Banjo Sandwich" was released in Holland by Ariola (27239) with a different cover 1976.
Dave Ferguson's solo album "Somewhere over the rainbow" with Alan Munde, Roland White and Roger Bush came next with a lot of traditional songs, self written and some classic's like the title song of the album, Paul Simon's & Stephan Grapelli's "Hobo blues" and Bob Wills' "Faded love". Guest's on this album were Joe Carr (he bacame a Country Gazette member 1978), Dan Huckabee, Stephen Bruton and Greg Ferguson.
DAVE FERGUSON: Somewhere Over The Rainbow
- DAVE FERGUSON: Somewhere over the rainbow (Ridge Runner 0003))
Produced by Mike Richey
with Dave Ferguson, Alan Munde, Roger Bush, Roland White, Joe Carr, Dan Huckabee, Stephen Bruton & Greg Ferguson

Side A: Beaumont rag/Sally Goodin/Brazos river waltz/Rachel/Sheryl's polka/Bill Cheatham
Side B: Somewhere over the rainbow/Grey eagle hornpipe/Faded love/High level hornpipe/Cowtown bounce/Hobo blues
Note: "Somewhere over the rainbow" was released also in UK on Breakdown Records (002).
Also Roland White released a solo album 1976 "I wasn't born to rock'n'roll" with all Country Gazette members - Roland, Alan, Roger, Kenny and Dave. On this album is "Powder creek" a song written by Roland and his brother Clarence White!
Liner notes were written by ex-Byrds drummer Gene Parsons:
On Roland White,
Roland White has along with his family been a innovator in bluegrass and country music for 20 years or more. I class the White family in the same catagory as the Stonemans, The Carters and Scruggs family. I put Roland White with Bill Monroe, Lester Flatt and Doc Watson. A pioneer in bluegrass styles and arrangments . He stands out as a distinct and soulful vocalist. His skill and dedication is amazing. The gospel back hills blues sound his voice has is haunting. To me Roland is sort of an idol. One of the warmest people I have ever had the pleasure to meet, he is a legend in his own time. Roland White is destined to lead bluegrass and country music to new dimensions.
ROLAND WHITE: I Wasn't Born To Rock'n'Roll
- ROLAND WHITE: I wasn't born to rock'n'roll (Ridge Runner 0005)
Produced by Mike Richey
with Roland White, Kenny Wertz, Roger Bush, Alan Munde & Dave Ferguson

Side A: Kansas City railroad blues/The storms are on the ocean/I'm head over heels in love with you/Door step of trouble/If I should wander back tonight/Texas gales/I saw your face in your moon
Side B: Prisoner's song/Marathon: Love come home, Nine pound hammer, Shackles and chains, Live and let live, Doin' my time, Sitting on top of the world/Same old blues again/Powder creek/Can't you hear me calling
Note: 2010 the album was released on CD on "Tompkins Square Records" and it contains one previously unreleased song "She is her own special baby".
In 1976 the Country Gazette were in Holland again to promote their upcoming album "Out To Lunch". During their stay in Holland, Roger Bush visited the Friday eveningshow "Nashville" on the VARA- radio, hosted by Wim Bloemendaal. During the radioshow, Roger Bush talked about his musical influences and musical history, and also about the new album. Some of the new songs of this album were played, as well as songs of the Kentucky Colonels and sessionwork of Roger Bush.
April 19th 1976 Country Gazette played at the "Wembley Country Music Festival" along with John Hartford, The Dillards incl. Doug Dillard, Rick Nelson & The Stone Canyon Band, The Ozark Mountain Daredevils etc .... .
On May 14th 1976 Country Gazette performed a show in Forsbacka/Sweden. (Thanks to Bo Maltanski and Kjell Fredell for the pics!):
| | | | |
| --- | --- | --- | --- |
| Roger Bush | Kenny Wertz | Alan Munde | Roland White |
Not direct an Country Gazette member album but with all the Country Gazette members was an album recorded by dobro player Dan Huckabee. "Why is this man smiling" which was recorded in May 1976. This album is in the Country Gazette tradition. Songs written by Byron Berline, Joe Carr (became a Gazette member 1978), Alan Munde, Merle Travis, Bob Wills and selfwriten songs.
Dan Huckabee is also playing on a lot of Country Gazette members solo albums. He also worked on a brief tour with Dicky Betts.
Dan Huckabee: Why Is This Man Smiling
- DAN HUCKABEE: Why is this man smiling (Ridge Runner 0004))
Produced by Mike Richey
with Dan Huckabee, Alan Munde, Roger Bush, Roland White, Dave Ferguson, Joe Carr, Gerald Jones, Mike Richey, Marc Johnson & Gary Bergman

Side A: Fireball/Roxanne waltz/Sally J./Hearts and flowers/San Antonio Rose/Little rock getaway
Side B: Why is this man smiling/Blackberry blossom/Snowball/Shenondoa breakdown/Texas dobro/Nine pound hammer
All those solo albums were in fact Country Gazette because there are only a few guest musicians and a few songs from those albums were played also live by Country Gazette.
All those albums were released on Mike "Slim" Richey's "Ridge Runner" label. Slim Richey had a music store in Norman. Slim, a jazz guitarist, admired lots of different kinds of players and music. He founded Ridge Runner Records 1975 with the goal of recording quality bluegrass. He produced Country Gazette albums and a few of their solo albums. Slim also recorded a solo album "Jazz Grass" with Gazette member Alan Munde (who also wrote the liner notes to that album), future Gazette member Joe Carr, Dan Huckabee and stars like Ricky Skaggs, Sam Bush, Bill Keith and Richard Greene.
Note: Bill Keith and Richard Greene were memebers of "Muleskinner" with Clarence White, David Grissman and Peter Rowan!
Slim Richey: Jazz Grass
- SLIM RICHEY: Jazz Grass (Ridge Runner 0009)
Produced by Slim Richey
with Slim Richey, Alan Munde, Joe Carr, Kerby Stewart, Bill Keith, Jerry Case, Sumter Bruton, Sam Bush, Richard Greene, Ricky Skaggs & Dan Huckabee

Side A: Gravy Waltz/Back home again in Indiana/To Linda/There'll never be another ou/Boppin' at the Bluebird/Angel eyes
Side B: Jazz Grass waltz/Rose room/Summer time/The preacher/Stompin' at the Savoy/Night in Tunisia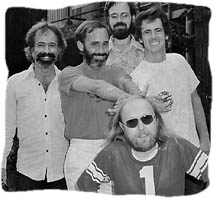 White/Bryson/Munde/Bush
& Martyn Smith

In October 1976 Country Gazette (Munde, White, Bush & Wertz) performed at the "Atlanta Falcons Stadium" in Georgia. A few songs from that show were rleased on an album with the title "LIVE in Atlanta, GA - October 1976" on Boilish Records (OZ/970). Country Gazette tracks on that album were:

Medley: Keep on pushing - Tried so hard - Swing low sweet chariot/Out to lunch/Sunny side of the mountain

Kenny Wertz left Country Gazette again, he decided to leave his full-time musical endeavors to raise a family, working as a graphics professional and mechanical engineer. A little bit later Roger Bush and Dave Ferguson left too.

Now Alan Munde and Roland White were Country Gazette for the next time. For a Japanese tour in 1977 Roger Bush played again the bass and Bill Bryson (later a member of the "Desert Rose Band" with Chris Hillman and Herb Pedersen) played the guitar.
A lot of shows were taped during the Japan tour for a possibly double album but nothing was released. Ridge Runner Records planed a fall 1978 release "Live in Japan" but album never came out.

Note: A few songs were released 1984 on the Country Gazette album "Live on the road".

| | | |
| --- | --- | --- |
| Alan Munde | Bill Bryson | Alan Munde |

"Expedition"

1976 Eddie Shelton from the "Stone Mountain Boys" recorded a solo album "Expedition" which was released by Ridge Runner 1977 (RRR0011). Musicians were Dave Ferguson on fiddle and Vince Gill on dobro and bass. For this album Ed recorded "Blue Ridge Express" which Alan Munde recorded for his solo album "Banjo Sandwich", "Somewhere over the rainbow" which Dave Ferguson recorded for his solo album too, Judy Collins' "Both sides now" and the classic "Sweet Georgia Brown".

1977 Alan Munde and Sam Bush teamed up for the second time (1968 they recorded an album together as "Poor Richards Almanac"), to record "Together again for the first time" with Roland White, Curtis Burch and John Cowan (both members of legendary "Newgrass Revival" with Sam Bush).
The Beatles song "Eleanor Rigby" was recorded for that album and two years later Country Gazette recorded that song too on their "All this and money too" album. Half of the songs on that album were self-written.


SAM BUSH & ALAN MUNDE: Together Again For The First Time
- SAM BUSH & ALAN MUNDE: Together again for the first time (Ridge Runner 0007))
Produced by Mike Richey
with Sam Bush, Alan Munde, Roland White, Curtis Burch & John Cowan

Side A: Stymied/Banjalin/Forked deer/Small change/Clear skies/Old Widder woman
Side B: Cattle in the cane/Counterblast rag/Town and country fiddler/Foster's reel/Panhandle country/Howdy in Hickman county/Eleanor Rigby
Go to the table of contents again | ............. continue the Country Gazette bio- and discography