Country Gazette (Part 5)
1977 - 1978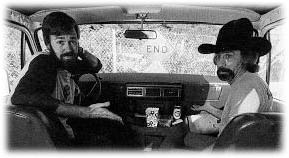 Country Gazette - 1977
Alan Munde & Roland White
Alan Munde and Roland White recorded a new Country Gazette studio album "What a way to make a living" released on Ridge Runner. Guests on that album were Byron Berline, Skip Conover, Mike Richey, Richard Greene (member of "Muleskinner" with Clarence White, David Grissman, Peter Rowan and Bill Keith) and Bill Bryson but now on the bass. For that album they recorded the George Jones song "Old old house", Carter Stanley's "Loving you too well" Rex Allen's "Last letter" self-written songs and the bluegrass standard "Don't let your deal go down".
Ridge Runner

COUNTRY GAZETTE: "What A Way To Make A Living!"

Transatlantic

- COUNTRY GAZETTE: "What a way to make a living!" (Ridge Runner 0008)
Produced by Martyn Smith
with Roland White & Alan Munde
guests: Byron Berline, Bill Bryson, Richard Greene, Mike Richrey & Skip Conover

Side A: Goodbye Mitchell Jayne/Loving you too well/Dark Hollow/In Despair/Old old house/Beautiful life
Side B: One woman man/Shite washed chimney/On my mind/Don't let your deal go down/Last Letter/Nantyglo R.F.C.
Note: Album also released in UK 1977 by Transatlantic (347) with a different cover and in Spain by Guimbarda label.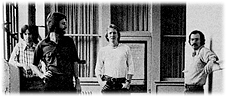 "Roanoke"
Maniscalco/Huckabee/Anderson/Carr

End of 1977 the Gazette (Roland and Alan) did a 10-week artist-in-residence program sponsored by the Oklahoma Arts and Humanities Council. In addition to Munde on the banjo and Roland on the mandolin, Bill Bryson played the guitar.

Between 1977 and the next Country Gazette album (1979) Alan Munde and Roland White had time to find new band members.
Joe Carr and Michael Anderson became the new members 1978. Both played in a Texas bluegrass band named "Roanoke". They recorded an album for "Ridge Runner" 1977. Other members of "Roanoke" were Dan Huckabee (playing on a few Country Gazette members solo albums and Country Gazette on his solo albums) and Mark Maniscalco. Guests on that "Roanoke" album were Dave Ferguson (ex-Country Gazette) and Ray Austin on pedal steel guitar. Songs were in the Country Gazette tradition, like from Elton John, Don Gibson, Delbert McClinton, Merle Haggard, Norman Blake and songs written by future members Michael Anderson and Joe Carr. Liner-notes were written by Alan Munde.

Roanoke: Roanoke
- ROANOKE: Roanoke (Ridge Runner 0010))
Produced by Roanoke
with Joe Carr, Michael Anderson, Dan Huckabee & Mark Maniscalco
guests: Dave Ferguson & Ray Austin

Side A: Dixie Lillie/Highland dream/Dancing river/Orphan Annie/Dixie blues/Sweet moments
Side B: Oh lonesome me/Foggy Mountain rumba/Here come the blues/Back home in Indiana/In Despair/Aloha
1978 the "Stone Mountain Boys" (ex-members of this group were Alan Munde, Byron Berline and Dave Ferguson) recorded an album for Ridge Runner. One really interesting aspect of this effort is the combination of two mentor-student teams - "Ed Shelton and Alan Munde" plus "Byron Berline and Dave Ferguson".

For this album they recorded two Gordon Lightfoot songs ("Early morning rain" and "Redwood hill"), Bob Seeger's "Turn the page", John Lennon's and Paul McCartney's "You've got to hide your love away" the claccis "Teardrops in my eyes" Byron Berlin's "Huckleberry hornipe" which Country Gazette recorded for their second album "Don't give up your day job" ... .
Stone Mountain Boys: Reunion Album
- STONE MOUNTAIN BOYS: Reunion album (Ridge Runner Records 0015)
Produced by Slim Richey
with Byron Berline, Alan Munde, Dave Ferguson, Ed Shelton, Mitchell Land, Bob Davis, James Durham, Lonnie Craft, Buddy Walker, Rim Nall, Sid Watley, George Anderson, Leon Elliot, Lonnie Terry, Chuck Terry & Perry Tarver

Side A: Air mail special/Dusty Miller/Leaf of love/Early morning rain/Redwood hill/Turn the page
Side B: This morning at nine/Lonesome day/Huckleberry hornpipe/Teardrops in my eyes/Evergreen/Georgia bound/You've got to hide your love away
Bobby Hicks (born in 1933) is a fiddleplayer who has played with Bil Monroe in the early fifties. First he was hired as a bassplayer, until Monroe discovered that he played fiddle real well and let him play fiddle. It was the time that Monroe used quite a lot twin-fiddles in his band.
In 1978 Bobby Hicks released the album "Texas Crapshooter" on the "County" label. Alan Munde and Roland White play on that album.
Bobby Hicks: Texas Crapshooter
- BOBBY HICKS: Texas Crapshooter (Country 772)
Musicians:
Side 1 (Western Swing): Bobby Hicks, Buddy Emmons, Buck White, Bucky Barret, Bruce Nemerov, Joe Allen & Karl Himmel
Side 2 (Bluegrass): Bobby Hicks, Sam Bush, Alan Munde, Roland White, Roy Huskey, Jr. & Vassar Clemments.

Side A: Panhandle rag / Goodbye Liza Jane / Maiden's prayer /Cherokee swing / Texas Crapshooter / Big Beaver
Side B: Snowflake breakdown / Scotland / Big Mon / East Tennessee blues / Cheyenne / Paddy on the turnpike
Go to the table of contents again | ............. continue the Country Gazette bio- and discography