Country Gazette (Part 3)
1973 - 1975
White / Berline / Munde / Bush
Roland White when he
was with Lester Flatt

Country Gazette was looking for a new tenor singer. There were plans to hire Tony Rice but they didn't fit together. Roland White helped to fill Kenny Wertz' place.
Roland White

Roland White was growing up in Maine. He started to play with brothers Clarence and Eric and sister Joanne. Still a kid, the White family moved to California. Only a month after arriving in California the White kids won a contest on a local radio station. Then the kids auditioned at an area TV-station, they where hired as the "Country Boys" but this time without sister Joanne, she decided not to continue.
Later Roland and his brothers formed together with Billy Ray Lathum "The Kentucky Colonels". Over the next few years the band played constantly. 1960 Roger Bush took over the bass duties from Eric White. The band was then joined by Leroy McNees and sometimes Bobby Slone and Scotty Stoneman.
1966 Clarence had more begun to play electric, Roland had taken up electric bass and was playing country music in Southern California. Late 60's he played for nearly two years in Bill Monroe's band on the guitar. Later he bacame the mandolin player for Lester Flatt for four years, in that same band was Marty Stuart (replaced Roland).
Roland had quit Lester Flatt March 15th 1973 and had come out to California to play with brother Clarence again.

"String Wizards" - Byron & Roland

Roland played with all Country Gazette members earlier and so it was no problem to fit in the band, with Roger Bush in the Kentucky Colonels, with Byron Berline in Bill Monroe's band and at various bluegrass festivals with Alan Munde. Roland was the perfect new band member.
After a show with Clarence White, Roland White, Gib Guilbeau .... a drunken driver hit Clarence White. Roland White, trying to help his brother Clarence who died in that accident, sustained minor injuried. After Clarence's dead, and a few weeks later Gram Parsons' dead, nobody was interested to do this all star world tour. Roland White became a permanent member of Country Gazette.

The Gazette toured UK Sept. - Oct. 1973.

Byron Berline writes in the liner notes to the "Byron Berline Band" album "Clark / Parsons tribute album" released 2001:

"In 1973 Gram Parsons, Emmylou Harris, Clarence White, Gene Parsons, Chris Ethridge, Sneaky Pete, Roland White and my band "Country Gazette" began touring together. In the fall of the year we had several college concerts scheduled and were really looking forward to traveling and performing together. But before we got on the road, Clarence was hit by a drunk driver while walking across the street after a local gig, and not long after this Gram Parsons was found dead."

Alan Munde Roger Bush Roland White Byron Berline

On December 8th 1973 the "Country Gazette" played to a sell-out crowd of over 9000 fans at the Anaheim Convention Center.

Because of the heavy touring since the end of 1973 the groupd didn't find the time to record a new studio album, so they decided to release a live album recorded November of 1974 at "McCabes Guitar Shop" in Santa Monica - California.
The album "Live", produced by Jim Dickson, was released on Transatlantic (TRA 291) because Country Gazette was dropped by UA, after the "Don't give up your day job" album. It was also released in NL on Ariola (88 556 IT), in Japan on Trio Records and in USA on Antilles Records. With Byron Berline, Alan Munde, Roger Bush and Roland White, guest was Skip Conover on the dobro. Roland White brought a lot of Kentucky Colonels material into the live show of Country Gazette. Lead singer on most of the songs was Roland White. This album was released by Transatlantic Records (see picture of the very nice LP label on the right) and on Ariola Records:


COUNTRY GAZETTE: Live
- COUNTRY GAZETTE: Live (Transatlantic TRA 291, Ariola 88 556 IT, Trio 3095 & Antilles 7014)
Produced by Jim Dickson
with Byron Berline, Alan Munde, Roger Bush & Roland White
guest Skip Conover

Side A: Black mountain rag/Roses for a sunday morning/Blue blue day/To prove my love to you/Lonesome road/Will you be lonesome too/Only way home
Side B: Sally Goodin/My baby's gone/Sunday sunrise/Laughing guitar/Never ending love/Holland holiday/Down in the blue grass
Country Gazette were guests on the Lee Arnold show "Country Cookin'". This program (No. 141) was a radio album and was aired week of 27th Jannuary 1974. Between the tracks were interviews. They played:
Down the road/Teach your children/Instrumental/My Oklahoma/Honky Cat/Lonesome blues tonight
Country Gazette did a TV-special on May 29, 1974 at the Boddy's Music Inn, in Amsterdam, during their Holland-tour of that year.
The Country Gazette was named top U.S. group at the 1974 "Billboard/Record & Radio Mirror Country Music awards Show" during the Country Music Festival in Wembley, England.
| | |
| --- | --- |
| Byron / Roger / Roland | Alan / Byron / Roger / Roland |
1974 Byron Berline played as a guest musician on the "Docker Hill Boys" demo recordings. Musicians on the "Docker Hill Boys" sessions were Gene Parsons, Joel Scott Hill, Chris Ethridge, John Barbata, Michael T. Lawson, Eric White and Byron Berline.
Note: When Gib Guilbeau and Sneaky Pete reformed The Flying Burrito Brothers late 1974 they asked Gene Parsons, Joel Scott Hill and Chris Ethridge from the "Docker Hill Boys" to join the Burritos. Those five became the new reformed Flying Burrito Brothers.
"Country Gazette" at "McCabes"
Conover/Munde/Berline/Bush/White

"Country Gazette" - 1974
Munde/Berline/Bush/White
Also 1974 Byron Berline and Alan Munde were actor-musicians on an ABC-TV movie of the week with the title "Children of God", co-ctarring Michael Parks.
Here are some pics from Västeras / Sweden spring 1975 (thanks Kjell Fredell for the pics):
| | |
| --- | --- |
| Munde/Berline/Bush/White | Munde/Berline/Bush/White |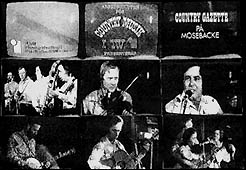 Swedish TV show at "Mosebacke"

In Jan. 1975 Swedish TV recorded a show at "Mosebacke Etablissement", which was shown on TV April 1975 and May 1975 (two different shows).

In 1975 the Country Gazette (line-up: Byron Berline, Alan Munde, Roger Bush, Roland White) did two tours in Holland. During the first tour in February one of their gigs was in "De Stadsschouwburg" in Tilburg.

Note: In February 1975 Country Gazette recorded songs with new Dutch singer "Sari Schuwer" (aka Sari Martin). The songs "The bramble and the rose" and " Gram Parsons' "Still feeling blue" were released 2010 on the Sierra Records release "Silver Meteor".

When the Gazette returned in Feb. 1975, Byron Berline decided to leave the group. (Byron informed the others that he was leaving the group the night when they landed back in the USA.)
Byron formed new bands like "Sundance" with friends John Hickman, Alan Wald, Dan Crary and Jack Skinner (Vince Gill was a member too), he played as "Berline, Crary and Hickman", the "L.A. Fiddle Band" (Greg Harris was a member for a short time), "California" and "The Byron Berline Band".

Byron also became a very busy session musicians - he played for everyone like Rolling Stones, Manhattan Transfer, The Byrds, The Band, Rod Stewart, Alabama, Suzy Boguss, Joe Diffe, Vince Gill (who was a member of his "Sundance" band), Linda Ronstadt, Bob Dylan, Tammy Wynette, Nitty Gritty Dirt Band, Rodney Crowell, Emmylou Harris and many more. He also worked on a lot of movie soundtracks. He also opened his own fiddle shop in Oklahoma.


BYRON BERLINE
For more info about Byron Berline visit his personal web-page the Double Stop Fiddle Shop & Music Hall.
Bette & Byron Berline left LA, after the earthquake in early 1995 to return to Oklahoma.
2013 Byron Berline & Jane Frost wrote a fantastic book about Byron Berline's career! A MUST HAVE for every Country Gazette, Flying Burrito Brothers, Dillards, Clarence White, Gram Parsons .... fan!
BYRON BERLINE: A FIDDLER'S DIARY

Forty years of journal entries document the L.A. recording industry from the Rolling Stones to the Byrds, and Alvin and the Chipmunks. They include hilarious stories of being one of the most sought after session players on the west coast, by three time National Fiddle Champion, Byron Berline, a Flying Burrito Brother who founded Country Gazette, The L.A. Fiddle Band and Sundance. His avoidance and survival of the drug-filled music industry, is amazing and heart lifting. His stories of the road are hilarious and the detailed journal entries are a researchers dream. From earthquakes to scoring motion pictures and having some of Charles Manson's Family in his home, this autobiography is the account of an Oklahoma farm boy's life and career -- from entering the University of Oklahoma on a football scholarship and graduating with a javelin in one hand and a fiddle in the other. It continues through acting in movies and his time playing/recording with Bill Monroe, Mickey Mouse, Linda Ronstadt, Emmy Lou Harris, Vince Gill, Mark O'Connor, Doug Dillard, Rod Stewart, Ann Murray, Earl Scruggs, and the Eagles, to his spiraling success as a musician, husband and father. Byron Berline, A Fiddler's Diary, is a peek inside the music industry as only an "A" list insider could explicitly describe. For baby-boomers, it is a dance down memory lane, with all the music and recording artists we love. His story is abundantly entertaining with enough documentation to be considered a reference work. Byron continues to tour, run his Doublestop Fiddle Shop and produces about twenty shows a year at his Music Hall in Guthrie, Oklahoma, as well as being the founder of the annual Oklahoma International Bluegrass Festival and Guthrie's annual Western Swing Festival. Byron continues to perform, record and write, with the same intensity and enthusiasm he has always maintained. He remains... "one of the most inventive fiddle players." In February, 2013, Grammy nominated, Byron Berline, received his highest recognition to date, being inducted into the National Fiddler's Hall of Fame. In genuine humble response, he invites everyone to, "Stop by the fiddle shop and say, HI"

A Fiddler's Diary
Dave Ferguson

Kenny Wertz returned to the group and a fiddler hailing from Ft. Worth/Texas by the name of Dave Ferguson, whose playing is probably best know via "The Stone Mountain Boys" of Dallas.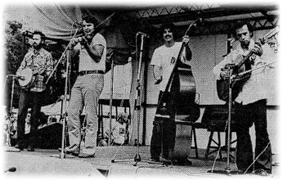 Munde/Ferguson/Bush/White

He fiddled with the "Stone Mountain Boys" from 1973 and 1975 and again after leaving the Country Gazette in 1976. Dave began playing when his guitarist father gave him a fiddle on his tenth birthday. Week-end fiddle contests plus school music training enabled David to learn breakdown fiddle styles polished by classical technique. But it was not until high school in Fort Worth in 1965 that he began fiddling in a bluegrass band. In the Army while stationed in Tacoma, David played with members of the "Olympia Symphony" in various Broadway shows sponsored by the Special Services. Returning to Fort Worth after the Army, David soon was in demand with many North Texas bluegrass bands. Between 1973 and 1975 he was a member of the "Stone Mountain Boys" with Eddie Shelton, later he joined "Changing Tymes" with Eddie. Dave joined the Gazette in spring 1975.

To nobody's surprise, the Country Gazette has been off to Europe again in July, where they played festivals in Switzerland and the south of France, as well as performing some dates in Holland and England.

Country Gazette recorded the song "Hide Your Love Away" in Holland on July 15, 1975, sung by Dave Ferguson. The song was aired on the Friday evening-radioshow "Nashville", by Wim Bloemendaal. The song was never released!

A new Country Gazette studio album was recorded by following line-up Roger Bush, Roland White, Alan Munde, Kenny Wertz and Dave Ferguson (but Dave is listed as a guest musican).
Title of this new album was "Out to lunch" on Flying Fish records (027) also released as "Sunny side of the mountain" by Transatlantic records (TRA 318). Al Perkins played pedal steel guitar as a guest, produced was this album by Jim Dickson, the last one he produced for Country Gazette.
Again they record a mixture of songs like Gram Parsons' "Still feeling blue", Waylon Jennings' "Sure didn't take him long", Mickey Newbury's "Why you been gone so long", Tom Paxton's "Last thing on my mind" (both last two songs recorded Clarence White for his unfinished solo album) and of course self-written songs.
COUNTRY GAZETTE:
Out To Lunch / The Sunny Side Of The Mountain
- COUNTRY GAZETTE: Out to lunch / The sunndy side of the mountain (Flying Fish 027 & Transatlantic TRA 318)
Produced by Jim Dickson
with Alan Munde, Roland White, Roger Bush, Kenny Wertz & Dave Ferguson
guest Al Perkins

Side A: Still feeling blue/Sure didn't take him long/Out to lunch/Melody for baby/Sing a sad song/Sunny side of the mountain
Side B: Down down down/Why you been gone so long/Forked deer/Time left o wander/Last thing on my mind/Uncle Clooney played the banjo/Blue light
Note: Roger Bush said in an interview, he didn't like the UK issue ("The sunny side of the mountain") with the front picture of mountain, as there was take great shots at a "Hamburer Stand"! These pictures were later used on US release by Flying Fish and Holland release on Ariola.
With this new line-up a lot of solo albums were released over the next years on the new founded Ridge Runner label.
Go to the table of contents again | ............. continue the Country Gazette bio- and discography