Doug & Rodney Dillard (Part 3)
The 60's
Doug Dillard and Gene Clark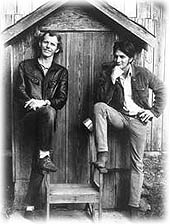 Doug & Gene

1966 Doug Dillard worked together with Gene Clark on Gene's first solo album on which Doug played an electric banjo!

- Gene Clark: Gene Clark & The Gosdin Brothers (Columbia CS 9418)

This album has been re-issued several times during the subsequent 30 years including 1972, when the album was re-mixed with some of Gene's vocals replaced:

- Gene Clark: Early L.A. Sessions (Columbia KC 31123)

Undoubtedly, this release sowed the seeds for the later "DILLARD & CLARK" project but for the next couple of years the two went their seperate ways, Gene pursuing his solo career and Doug still was a Dillard at that time and then toured with the Byrds during their "Sweetheart Of The Rodeo" period in 1968.

In 1967 Doug wrote and performed music for the soundtrack of the movie "Bonnie & Clyde"! Only "Foggy Mountian Breakdown" was Earl Scruggs playing, all the other banjo playing is Doug!!!
1968 - 1969
Doug Dillard and The Byrds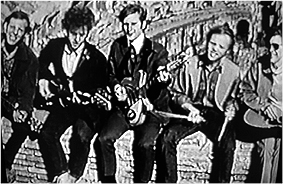 THE BYRDS
Doug/Chris/Roger/Kevin/Gram

Douglas accepted an offer to accompany the Byrds on an European tour. A few bootleg albums from this tour were released with Doug on banjo. Like following CD:

- THE BYRDS: The Live Byrds (Bulldog BGCD 022)
With Roger McGuinn, Gram Parsons, Chris Hillman, Kevin Kelley and Doug Dillard.
Recorded live at the "Piper Club" in Rome/Italy - May 2, 1968.

They played songs like:
You Ain't Going Nowhere/Old John Robertson/You Don't Miss Your Water/Hickory Wind/I'll Feel A Whole Lot Better/Chimes Of Freedom/The Christian Life/Turn! Turn! Turn!/My Back Pages/Mr. Spaceman.
Doug Dillard
Back in the USA Doug recorded his first solo album:

- DOUG DILLARD: The Banjo Album (Together Records STT 1003)
and is now available on CD released by Sierra Records (OXCD 6008)
With Doug Dillard, Bernie Leadon, Don Beck, Gene Clark, John Hartford, Red Mitchell, Milt Holland and Andy Belling.
Produced by Jim Dickson.

Note: The Banjo album was re-released on CD with 5 bonus tracks 2004 on the Rural Rhythm label.

Doug also wrote and performed scores for 7-Up, Kentucky Fried Chicken, Chevrolet and Visa commercials.
Dillard & Clark
Gene & Doug

In early 1968 Gene Clark did some sessions with a young songwriter Laramy Smith to which it is likely Doug Dillard again contributed some banjo. Tracks from these sessions remained in the vaults until some were released many years later in 1998 on Gene's retrospective 2 CD set "Flying High".

In the summer of 1968, both Doug Dillard and Gene Clark were looking for a new project, Gene's solo career had stalled and Doug, having already left the Dillards, had just returned from a European tour with the Byrds.
Doug & Gene teamed up and after productive "jam" sessions with fellow musicians Bernie Leadon (ex "Hearts & Flowers"), Don Beck and David Jackson they recorded an album together produced by A & M stuff producer Larry Marks.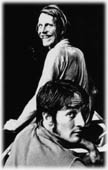 Doug & Gene

Note: In the book "Country Roads" by Brian Hinton is written: (The quote comes from Rusty Young (Poco) recounting the scene when he first arrived in LA c. 1968).
"There were lots of little bunches of people getting together and one of hese was the original conjunction of Gene Clark & Doug Dillard with a string bassist (David Jackson) & Bernie Leadon. They had their band together and were going to be really "bluegrassy" but the record was so different, and I was very disappointed because it didn't have the magic that those little tapes made at their house did. Boy, that was the closest thing to what I consider to be Country Rock that I have ever heard and it's never made it to a record."

The first album was released in October 1968:

- DILLARD & CLARK: The Fantastic Expedition Of Dillard & Clark (A & M Records SP4158)
With Doug Dillard, Gene Clark, Bernie Leadon, Don Beck and David Jackson.
Guests: Chris Hillman and Andy Belling.
Produced by Larry Marks.

Following good reviews for the album the band now known as "The Dillard & Clark Expedition" played concerts in California opening at the Troubadour L.A. in December 1968. For this series of shows the group (Dillard, Clark, Leadon and Jackson) had gone electric with Michael Clarke playing drums.
In early 1969 the band re-entered the studio and recorded a single:

- DILLARD & CLARK: Lying Down The Middle/Don't Be Cruel (A & M 1033)

But shortly after the release of this single the band reverted back to an acoustic sound so Michael Clarke left to join their label mates The Flying Burrito Brothers in February 1969.
Doug & Gene with Jon Corneal

Don Beck who had not toured with the band rejoined along with Donna Washburn, Doug's girlfriend at the time, and recorded another single, released in June 1969, with the band sound beautifully embellished with strings:

- DILLARD & CLARK: Why Not Your Baby/The Radio Song (A & M 1087)

NOTE: The three songs "Lying Down The Middle" "Don't Be Cruel", and "Why Not Your Baby" were not included on either of the bands two albums and were difficult to obtain until re-releases appeared many years later.
Lack of success prompted further changes during the summer of 1969 with Bernie Leadon and Don Beck both leaving, being replaced by Byron Berline and Jon Corneal on drums.
Following a return to electric instruments the band recorded a second album with the help of two members of the "Flying Burrito Brothers", Chris Hillman and Sneaky Pete Kleinow. The album is much less spontaneous than their debut and relied heavily on outside material.
The album was released in September 1969:
- DILLARD & CLARK:Through The Morning, Through The Night (A & M SP4203)
also released on CD by Edsel Records (ED CD 195)
With Doug Dillard, Gene Clark, Donna Washburn, Byron Berline, Jon Corneal and David Jackson.
Guests: Chris Hillman, Sneaky Pete Kleinow and Bernie Leadon.
Produced by Larry Marks.
Gene Clark's "Flying High" double CD released in 1998 is a particularly important release because this 2 CD set contains, in addition to nine commonplace tracks, two newly discovered outtakes from the original "Dillard & Clark" sessions:
- GENE CLARK: Flying High (A & M 540 725-2)

Wall Around Your Heart

Dark Hollow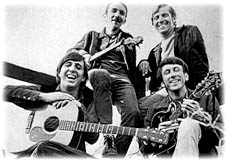 Rodney, Herb, Mitch & Dean

It is also likely that Doug Dillard plays banjo on the previously unreleased track from the aborted solo Gene Clark/Laramy Smith sessions in early 1968 (also on the "Flying High" CD):
I Pity The Poor Immigrant.

The fact that the group rarely played outside California, although they did tour with "Jefferson Airplane" and did some college shows in Chicago and Minnesota, it must have been a contributory factor to poor record sales, which coupled with poor reviews for the second album lead to Gene Clark quitting the band in December 1969 to resume his solo career.
The Dillards
Rodney's ambition was to inject a completely unique texture and flavor into the Dillards' music. This would include full orchestration, pedal steel, stringed instruments, drums and multitrack recording technology. Herb Pedersen was brought in, at Dean's suggestion, to replace Doug on the banjo and provide vocal help. Dean had heard Pedersen during the groups early days in Los Angeles. He also knew that Pedersen occasionally substituted for Earl Scruggs. Pedersen's arrival added a new dimension to the band's sound.
| | | |
| --- | --- | --- |
| Rodney, Dean, Mitch & Herb | Rodney, Mitch, Herb & Dean | Herb, Rodney, Mitch & Dean |
1968 the first Dillards album without Doug Dillard was released:

- THE DILLARDS: Wheatstraw Suite (Elektra EKS 74035)
also released in Japan on CD (22P2-3115)
With Rodney Dillard, Herb Pedersen, Dean Webb and Mitch Jayne.
Guests: Buddy Emmons, Joe Osborn, Toxey French and Jimmy Gordon.
Produced by Rodney Dillard and Jimmy Hilton.

Dillards at the Golden Bear
The Dillards appeard on the music-TV program "Meldoy Ranch" (which brought rising and well-known stars of country music to West-Coast television in the late '60's and early '70's).
2004 a DVD with the title "Melody Ranch - Vol. 4" was released feat. The Dillards (Rodney Dillard, Herb Pedersen, Dean Webb & Mitch Jayne).
Songs performed on the DVD:
Flint hill special
Dooley
Shady grove
The old man at the mill
Dillards ad the Golden Bear

The Dillards recorded their next album "Copperfields" in 1969. Herb Pedersen brought a good friend in to the band, drummer Paul York. The only guest musician on this album was Byron Berline:

- THE DILLARDS: Copperfields (Elektra Records EKS-74054)
With Rodney Dillard, Herb Pedersen, Dean Webb, Mitch Jayne and Paul York.
Guest is Byron Berline.
Produced by John Boylan.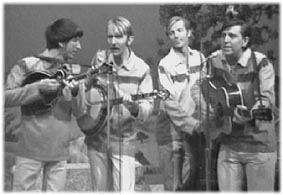 Dean, Herb, Mitch & Rodney

Note: 2004 "Elektra Records" has released a double CD including three Dillards albums and two singles: "Pickin' and fiddlin" with Byron Berline, "Wheatstraw suite" and "Copperfields" and 2 singles as bonus tracks which were recorded for "Capitol Records" in 1965.
Mitch, Rodney
Herb & Dean

In 1987 Edsel Records released a compilation LP with tracks from the albums "Wheatstraw Suite" and "Copperfields":

- THE DILLARDS: I'll Fly Away (Edsel Records ED 246)

In 1991 Vanguard Records released a CD with tracks of the first five Dillards albums:

- THE DILLARDS: There is a time (1963 - 70) (Vanguard VCD-131-32)
With Doug Dillard, Rodney Dillard, Dean Webb, Mitch Jayne and Herb Pedersen.
Guests like listed on the Dillards' albums above!

Now after 5 albums for Elektra records the Dillards left the label and recorded two singles for White Whale Records 1969:

- THE DILLARDS: Turn It Around/One Too Many Mornings (White Whale 351)
Produced by Chip Douglas.

- THE DILLARDS: Comin' Home Again/Fields Have Turned Brown (White Whale 359)
Produced by Rodney Dillard.
Both singles with Rodney Dillard, Herb Pedersen, Dean Webb, Mitch Jayne and Paul York.
Mitch Jayne's second book "Old Fish Hawk" was published and the film version of this book was released in 1979 and is available on video.
Go to the table of contents again | ............. continue the Doug & Rodney Dillard biography