JOHN BELAND (Part 5)
The Flying Burrito Brothers (1988 - 2000)
After the Burritos broke up in 1985, John settled back into session work and working in the road band of NICOLETTE LARSON.
John made plans to move his family back to California and re-join Rick Nelson, when Rick and the band were killed in a plane crash in Texas on New Years Day, just prior to John's return. Devastated by Rick's death, John remained in Nashville, concentrating on his writing. He scored a country hit with "Forever you" by the Whites and with "Isn't it amazing" by former "Grand Funk Railroad" member Mark Farner. Joe Cocker recorded a Beland song too. John also recorded sessions for Nashville writer Dewayne Blackwell. Blackwell used John as his main session guitarist, along with his demo vocalist GARTH BROOKS. Later, when Garth recorded his first album he cut a song by John Beland and Dewayne Blackwell called "We still walk hand in hand". However, the final version still remains in the can and was never released by Garth Brooks. A Canadian band called "The Goode Brothers" had a hit with the same song.
1987/88 Beland produced and wrote together with Gib Guilbeau the theme song of the
- Morton Downey, Jr. show.
John also produced and played on all of the music for the show.
John wrote the introduction for the Rick Nelson biography "The Ricky Nelson Story (Hollywood Hillbilly)" written by John Stafford and Ian Young of England. It shows a diffeerent perspective than the USA originated books. This book was published in 1988.
During the breaks between tours, his session work continued but he also found time to do some recordings in Texas with fellow songwriter Dewayne Blackwell and some solo tracks alongside recordings by Gib and his son Ronnie Guilbeau with Sneaky Pete Kleinow appeared as a Flying Burrito Brothers release on the French Voodoo label (released in 1990):
The Flying Burrito Brothers
- FLYING BURRITO BROTHERS: Southern tracks (Voodoo CD103-270)
with: John Beland, Gib Guilbeau, Sneaky Pete Kleinow
guests: Rick Lanow, James Hooker, Ronnie Guilbeau, Alan Jones, Ron Christie, David Humphries, Larry Patton
In 1989 John was working as associate producer/musical director for a planned film about the L.A. club "The Troubadour". In addition along with Austin Roberts, the writer of the Burrito Brothers hit single "I'm drinking Canada Dry", he was invloved in a group project called the "AIRBORNE RANGERS" playing music described by John as electric twelv string guitars and great harmonies. However as no finished results appeared from either of these projects it is probably safe to assume that both failed to be completed.
Larry Murray, Bernie Leadon & John

Also in 1989 John appeared at the annual Gram Parsons and Clarence White tribute concert in Nashville from which a compilation album of the artists taking part appeared on the Italian Appaloosa label:

Wheels - Tribute album
- WHEELS: Tribute to Gram Parsons and Clarence White (Appaloosa AP 049)
with John Beland, Larry Murray, Bobby Bare, Freddy Weller,Thad Maxwell, Will Roberts, Chris James, Gib Guilbeau, Sneaky Pete Kleinow, Larry Patton and Rick Lano.

John's contribution consists of a live reading of the Larry Murray song "Emmy" originally recorded for his unreleased solo album on Big Tree. John also played guitar for the other artists on the show: Bobby Bare, Larry Murray and Freddy Weller. Two live Flying Burrito Brothers tracks with John in the line up and probably recorded in Dayton, Ohio were added to the album. One of these live tracks also showed up on the "Southern Tracks" album above.

1990 - 1994
In 1988/89 Beland was working with BOBBY BARE and his band "Pulleybone", when a promotor in Europe asked the Flying Burrito Brothers to reunite for a series of dates in France and Spain. Again the FLYING BURRITO BROTHERS reformed with new line-up: John Beland, Gib Guilbeau, Sneaky Pete Kleinow, Larry Patton and Rick Lanow.
The Burritos played the gig in France with Foster & Lloyd. John sat in with them that night.
During this tour a live album was recorded:
The Flying Burrito Brothers
- FLYING BURRITO BROTHERS: Encore - Live in Europe 1990 (Sundown SDCD069)

Also released on Summit Records:
- FLYING BURRITO BROTHERS: Live in Europe (Summit SUMCD 4157)
The front cover has wrongly a picture of the Parsons, Hillman, Kleinow, Ethridge line up.
1990 John Beland worked again with the Bellamy Brothers on the road and in the studio.
John can be seen in the Bellamy Brothers' video:
Bellamy Brothers videos with John Beland
- THE BELLAMY BROTHERS: Cowboy beat
- THE BELLAMY BROTHERS: Can I come home to you
"Cowboy beat" went to peak pos. 23 on the Billboard Country Music Charts 1992 and was co-written by John Beland and the Bellamy Brothers! For this song John won 1993 the ASCAP AWARD. John also co-wrote their follow up to "Cowboy beat", "Hard way to make an easy living" which also became a hit for them.
In 1991 yet another FLYING BURRITO BROTHERS incarnation with John Beland, Gib Guilbeau, Sneaky Pete Kleinow, Chris Ethridge, Australian country rocker Brian Cadd and Poco drummer George Grantham was formed. They have recorded six demos and four different labels wanted to sign them. But it took 2 more years until an album was released.
John also reported that he & Brian Cadd are close to signing with BMG International and they hope to record a pop-rock album to be out in Europe. But nothing was released!
The Burritos also talked about a telemarketing package that includes both a video and a CD. Gib reported in an interview: "The video approx. 60 mins long will feature interviews with and studio picking by Gib, John & Sneaky Pete. The video is split into two segments, one which tells the Burritos story and secondly an instructional songwriting seminar.
The CD will feature 22 songs almost half being recent unreleased FBB recordings by Gib, John, Sneaky, Chris Ethridge & Brian Cadd. The remaining songs will feature recordings by new unsigned country-rock bands." Gib hoped this project will evolve into the creation of a new label for new artists, a kind of passing the torch. !!! But this package was never released !!!
1993 the new FBB album was released. Brian Cadd was heavily involved as singer and songwriter. Ronnie Tutt, Elvis Presley's former band member, was guesting on drums instead of George Grantham. The tracks on this album were recorded during the summer of 1993 in Franklin/Tennessee:
The Flying Burrito Brothers
- FLYING BURRITO BROTHERS: Eye of a hurricane (Sundown CDSSD075 and One Way OW30330)
musicians: John Beland, Gib Guilbeau, Sneaky Pete Kleinow, Brian Cadd, Chris Ethridge.
Guest: Ronnie Tutt.
The title track of this album appeared a couple of years later on 2 compilation CD's issued in the UK:
Songs from that album also released on
- VARIOUS ARTISTS: American FM (Nectar NTRCD 090)
- VARIOUS ARTISTS: Magnum Music Sampler ( MMG96)
The Flying Burrito Brothers 1994 - 1995
Guilbeau, Beland, Sneaky Pete, Larry Gadler, Kubal, Cadd
1994 the Flying Burrito Brothers performed at the "International Trucker Festival" in Zurich / Switzerland.
John Beland remembers: "The crowd were screaming for us, dancing on the tables, and wouldn't let us get off the stage. We got called back for three encores, one of them joining up with Allen Frizzell (brother of Country Music Hall Of Famer Lefty Frizzell)."
The Festival drew thousands of country and rock fans, many of whom have been Burrito backers for years. The following pics were taken in Switzerland while sightseeing Zurich.
| | | |
| --- | --- | --- |
| Gib / John / Brian | Guilbeau / Cadd / Beland | Brian / John / Gib |
In Spring/Summer 94 this line-up (Guilbeau, Beland, Kleinow, Brian Cadd, Gary Kubal & Larry Gadler) did an Austria, Germany and Switzerland tour and another short various artists tour of Europe took place in June/July 1995. The FLYING BURRITO BROTHERS were rumoured to have signed a recording deal with a small US label but nothing appeared.
1995 - 1997
It was reported in Billboard around 1995 that the band had signed a new recording deal with a small US based label but no releases appeared.
1995 John Beland produced together with Brian Cadd an album for the German country duo CARRY & RON. John wrote also a few songs for this album:
Album produced and with John Beland
- CARRY & RON: Legend in the making (Fresh 398.6177.2)
with: John Beland, Brian Cadd, Hoot Hester, Spady Brennan, Steve Turner, Billy Thomas
Randy Frazier and the Jordanaires.
Also in 1995 an album by "The Nashville Country Classical Orchestra" was released in Germany, the musicians were John Beland, Brian Cadd, Al Perkins, Gerry Peters, Elisabeth Small, Tony Harrell, Spady Brennan and Steve Turner.
An interesting project with these country & rock based musicians playing classical pieces by Mozart, Beethoven, Brahms, Tschaikowsky and Smetana.
Classical album with John Beland
- THE NASHVILLE COUNTRY CLASSICAL ORCHESTRA: Volume 1 (Fresh 398.6500.2)

Track list:

- Symphonie Nr. 40 "Symphony no. 40 G minor K 550" (Wolfgang Amadeus Mozart)
- Die Moldau "Vltava" (Bedrich Smetana)
- Konzert fuer Klavier Nr. 5 "Emperor in E flat major op 73" (Ludwig Van Beethoven)
- Eine kleine Nachtmusik "A little notturno serendade in G major K 525" (Wolfgang Amadeus Mozart)
- Ungarische Taenze "Hungarian dance" (Johannes Brahms)
- Tanz der kleinen Schwaene "Swanlake" (Peter Tschaikowsky)
In 1996 John Beland produced with Brian Cadd a session with Mildura singer Shayne Parle in Melbourne. A few weeks earlier John recorded two demo songs with Parle in his own studio.
Same year, the song "We don't always see eye to eye" written by John Beland, Dewayne Blackwell & Rory Bourke was used in the Canadian TV-movie "Giant Mine&quot, and was recorded by "The Goods".
In 1997 John Beland was seen in China with Chinese recording artist Zoe, in Guangzhou, Red China, on a break during the recording of the artist's first album for Golden Pony Records (Hongkong). The album is the first ever Chinese country/pop album in history and it also marks the first time that country music has been recorded in China for commercial release.
Also 1997 John landed the FLYING BURRITO BROTHERS a deal with Ether Records and produced the critically aclaimed CD:
The Flying Burrito Brothers
- FLYING BURRITO BROTHERS: California jukebox (Ehter Records and American Harvest 57708)
with John Beland, Gib Guilbeau, Sneaky Pete Kleinow, Larry Patton and Gary Kubal
guests: Al Perkins, Dennis Belfield, Tony Harrell, Jo-El Sonnier, Sonny Landreth, Billy Thomas
Buck Owens, Waylon Jennings and Charlie Louvin.
1998 - 1999
In 1998, the Burritos now led by John Beland (without Gib Guilbeau and Sneaky Pete Kleinow) signed with Grateful Dead Records. Also this year Beland and family returned to California, settling down in the wine country of Yountville. John has his own studio where he continues to produce commercials and other projects.
In 1998 he recorded two sides with legendary producer Eddie Kramer and was backed by ex-members of the Desert Rose Band (Herb Pedersen, Jay Dee Maness and Steve Duncan). The tracks were produced for Thomastic Infeld Strings and are still unreleased.

John Beland produced the Flying Burrito Brothers latest album for Grateful Dead Records:
Merle Haggard & John
The Flying Burrito Brothers
- FLYING BURRITO BROTHERS: Sons of the Golden West (Grateful Dead Records GD CD 4065)
with John Beland, Larry Patton, Gary Kubal, Wayne Bridge.
guests: Merle Haggard, Earl P. Ball, Alison Krauss, Ricky Skaggs, Sam Bush, Delbert McClinton, The Oak Ridge Boys, John Cushman and Dave Roe.
Click here for track list, cover and more information
This album was also released in Australia under the title:
Also released as
- FLYING BURRITO BROTHERS: Honky Tonkin' (Stallion Records SW 99018)
The song "Ode to Gram" is replaced by the song "Wheel of love" from the "Eye of a hurricane" album with Brian Cadd.
Note: Head of Stallion Records is Brian Cadd, former member of the Flying Burrito Brothers.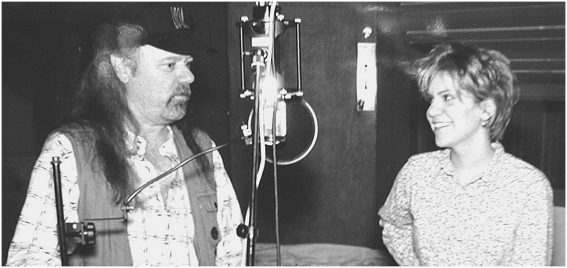 John & Alison Krauss
A single was also released:
Flying Burrito Brothers single
- FLYING BURRITO BROTHERS: Anyone else but you (Grateful Dead Records)
feat. Alison Krauss and Sam Bush.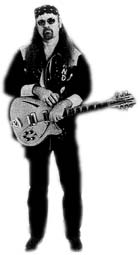 In August 99 John Beland returned from New York after a busy two weeks in the studio and guest appearing with The Toni Brown Band (Relix Records) at The Sterling Stage Festival.

Waylon & John

The July/August '99 (Vol.26, No.4) issue of the RELIX magazine did three articles (7 pages) about the Flying Burrito Brothers and John Beland:
- An attempted chronological history (by Dawn Wolf)
- Flying again: John Beland pilots the return of country-rock's pioneers (by Dawn Wolf)
- Carrying the torch: An interview with the Flying Burrito Brothers' John Beland (by Les Kippel and Dawn Wolf)

John produced Aussie country legend, Lee Conway's next CD for Stallion Records, due out October '99.

"Jefferson Airplane" guitarist Jorma Kaukonen asked John Beland on stage to jam with him at the Pocanos festival. The crowd went crazy. Jorma Kaukonen played lap slide and John played mandolin.

In November John was playing with Toni Brown in Las Vegas.

John has produced four songs for Australian country artist Tamika Kellehear at Stallion studios in Australia. Those songs are on her album "Here I am".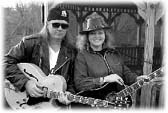 John & Toni Brown

John produced the new Toni Brown CD "Dare To Dream":

Produced and with John Beland
- TONI BROWN: Dare to dream (Relix Records RRCD2100)
Produced by John Beland.
Musicians: John Beland is playing acoustic guitar, keyboards, tambourine
mandolin, Hammond B-3, bass, percussion and is singing harmonies.
Other musicians are Gary Kroman, Rob Wolfson, Marty Bostoff, Mike Nicita
Ernie Acevedo, Jeff Pearlman. Vassar Clements plays fiddle on one song.
Flying Burrito Brothers 2000

The Burritos did a six week Australia and Hawaii tour in Jannuary and February that took the Burritos all over the country. In Australia the Burritos shared some of the 30 dates with "The Amazing Rythm Aces" but also headlined a very successful appearance at "The Tamworth Music Festival" where the FBB's received rave reviews. While in Tamworth, The Burritos were joined on stage by Australian rock legend "Ross Wilson" of "Daddy Cool". Together they sang the classic Daddy Cool rock anthem "EAGLE ROCK" to a resounding reception from the Tamworth audience.
In Brisbane The Burritos recorded their own version of the song.

In Surfer's Paradise, The Gold Coast, The Burritos received their own star on The Hard Rock Cafe's "Walk Of Fame". John and the guys also signed a guitar for the club's famous wall. The band's latest CD "Honky Tonkin" (Stallion Records/Warners) is a big hit Down Under, and the response to the band's first Australian appearance ever was a major success.

On to Hawaii where the FBB's performed at Maui's Hard Rock Cafe where they shared the bill with legendary rock producer "Bob Rock's band". In Honolulu, the Burritos signed an Epiphone guitar for The Honolulu "Hard Rock Cafe", as well. John and the band also had a chance to visit their favorite Hawaii rockers "The Piranha Brothers" at Honolulu's Irish Rose Club, where the Burritos sat in for a rousing 4 songs.

John's playing lead guitar on some new tracks for rockabilly legend Dale Hawkins ("SUZIE Q") for release 2000.

John finished working in the studio with Australian country/rock star "Diana Woods" for Stallion Records (Brisbane).
Her next single release "Who's Life Is It Anyway" will feature some of the The Flying Burrito Brothers on it, as well. Sessions were done in Brisbane.

John just returned home from Australia where he appeared solo at Gympie Muster Festival to rave reviews. John plans to be a frequent visitor to Australia working on solo appearances and production projects.


Go to the table of contents again | ............. continue the John Beland biography