JOHN BELAND (Part 6)
The New Millenium
2000
On Sept. 30th 2000 John performed his first solo appearance in LA since 1969 along with Severin Browne (Jackson's brother). The show was fantastic! John got a standing ovation.... John played 1 1/2 hour songs John has written over the years with the addition of some newer material for his solo album.

Rick Nelson
Box-set

John is featured on the new Rick Nelson Box Set titled "LEGACY"!
Also John's being interviewed for VH1's "Behind The Music" for a piece they are doing on Rick Nelson.

Papa Nez CD

John produced a new CD on Napa Valley singer John Kelly, leader of the Irish/Celtic group "Kith & Kin", with whom John appears with occasionally. John produced two prior albums on "Kith & Kin".

John contributed a wonderful version of "Some Of Shelly's Blues" for a Michael Nesmith tribute album: "Papa Nez: A Loose Salute To The Work Of Michael Nesmith" released on Dren Records on April 24th 2001. The project features a variety of artists recording Mike Nesmith (of The Monkees) songs. The song John selected was the Dirt Band's old hit "Some of Shelly's blues".
Other performers on this CD are: John Jorgenson, Buddy Woodward, Western Electric and more.
2001 - 2002
2001 John released a 14-song compilation CD featuring the best of John's work with "The Flying Burrito Brothers"! Guests include: Alison Krauss, Ricky Skaggs, Sonny Landreth, Jo-El Sonnier, Buck Owens, Sam Bush and others. 8-page booklet included with CD has FBB historical info.
John Beland / Flying Burrito Brothers: Burrito Works
- JOHN BELAND / Flying Burrito Brothers: Burrito Works
Produced by John Beland
Musicians: John Beland / Gary Kubal / Wayne Bridge / Larry Patton / Jamie Whiting / Sonny Landreth / Dennis Belfield
Billy Thomas / Jo-El Sonnier / Gib Guilbeau / Chris Ethridge / Sneaky Pete Kleinow / Brian Cadd / Buck Owens
Tony Harrell / Al Perkins / Ricky Skaggs / Dave Roe / Charlie Cushman / Earl P. Ball / Sam Bush / Alison Krauss
Roddy Love / Milla Luv / John Fittapoldi

Tracks: Area 51 / World without you / Down at the Palomino / Back to bayou teche / Rosetta knows / Buckaroo
Sons of the golden west / San Fernando road / Pioneer Zephyr train / (Calling me back to) the wild wild west
Pull this / Anyone else but you / Up on Sycamore / Locked away
Here is a personal note from John about the "John Beland/Burrito works" CD:
"The Flying Burrito Brothers was a major part of my life and career. Although I'm glad we scored hits in the early '80s (recently released on Curb as "BEST OF THE BURRITO BROTHERS"), my final years with the group were the most productive creatively.
I feel that after all the years with the group, the final lineup of Patton, Kubal, Bridges, Earl Ball and me represented the tightest lineup The FBB ever had. These guys could play circles around anybody.
That's not to take anything away from my time playing with Gib Guilbeau and Sneaky Pete Kleinow. Both are legendary stylists and pioneers who contributed greatly to the legacy of the band. It's unfortunate that health issues and other commitments prevented them from continuing with the band on a permanent basis. It's only because of those reasons the latter day FBB came to be.
This CD reflects my final work with the group. In the end, it was a treat to work with Merle, Buck, Waylon and all my heroes. (A few of them are on this CD.) I guess their participation with us and the body of work we came up with contributed to the credibility we needed.
I hope you like this CD. It's my swan song to a band that took me on an incredible journey for over two decades. Along the way, I had some amazing experiences, met some wonderful fans and made some lifelong friends...so who says I didn't get rich being a Burrito?
Now its onward to more music...and hopefully, some more miles of road ahead."
Also 2001 John Beland released a solo album. This album was recorded in Napa at John's studio (John played all the instruments and did all the vocals, except for one song where he brought in background singers) and then mixed and mastered in Los Angeles.
John Beland: Bare Bones
- JOHN BELAND: Bare Bones
Produced by John Beland
John Beland all instruments

Tracks: Never got to meet them / Bare Bones / The man in Jenny's eyes / Forever you / Monterey rain
Slow walk / Cowboy beat / Shelly's little girl / Someone's gonna answer (to the man upstairs)
Hard way to make an easy living / Isn't it amazing / Shadow hill / In an instant
Guitar hall of fame / My old man
Here is a personal note from John about the "Bare Bones" CD:

"Of all the many recording projects I've been involved with over the past three decades, I can honestly say that BARE BONES is the one I'm most proud of. Although simple in production, this body of work comes straight from my heart and reflects the most honest music I have ever recorded under my own name. Some of the songs were hits by others and afforded me a few more months of rent and a couple more bags of groceries. For that I'm thankful. But, I guess, if I could pinpoint what I'm most proud of in regard to this album, it would be the honesty of the songs.
Although I can hold my own on guitar in the studio or on tour, I consider myself, first and foremost, a songwriter. I was taught by the best...Larry Murray, Freddy Weller, Dewayne Blackwell, Austin Roberts, Brian Cadd, Paul Parrish, Bobby Fischer and other great hit tunesmiths.
BARE BONES is a collection of some of the best songs I have ever written and I hope it touches the part of your heart that makes you smile, shed a tear or look at life from a different perspective...'cause that's what songwriting is truly about."

"Bare Bones" has been nominated for Best Americana Album Of The Year by the Just Plain Folks Music Awards 2002.

John is playing on a new album by Kate E. Oyler "Handful of aces" and also on a new CD by Deanna D'Amico "A song for you & me". She also recorded two John Beland songs for her new CD "Isn't it amazing" and " In an instant"!

John relocated to Australia!

JB produced Aussie country star Michael King's new CD.
Following up on the heels of Michael's recent chart hit single "TWENTY FOUR-SEVEN", the debut CD titled "RADIO RANCH" after the song John co-wrote with former Paul Revere & The Raiders alumni Freddy Weller & Keith Allison.
The first single off the album "BIM-BAM-BOOM" is also written by John, along with Dewayne Blackwell ("Friends In Low Places") and Rory Bourke. Other songs written by John are: "Little Bit", "Our Town", "A little bit more" and "The river knows".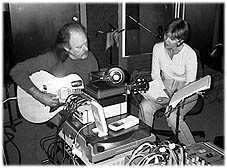 John & Marg Manfield

JB about Michael King: "This kids a star and hopefully "Radio Ranch" will be the launching pad needed to put him up there with the big boys. Michael was a pure joy to work with ... a hell of a singer and a total pro. What more could any producer ask for?"

John played guitar on tour behind Aussie rock & roll legends Russell Morris and Brian Cadd in September 2002. Russell and Brian have been touring together for the past year.
John also compleated a session with Russell Morris. The session was for a new song of John's called "THE MAN INSIDE THE BOY" which John wrote for the feature length film Peter Pan. But unfortunately, this song wasn't used!
Russell Morris is know throughout Australia for his smash hits "THE REAL THING", "HUSH" and many more top ten hits in the 70's & 80's.
JB & Johnny Tillotson

John produced a contemporary Christian album on Aussie singer Marg Manfield. The sessions were recorded at Aussie artist Chris Webbe's studio, Celestial Productions high in the hills at beautiful Montville, Australia just north of Brisbane.
Marg recorded a version of John's Gospel standard, "Isn't It Amazing" (originally a hit by Grand Funk Railroad legend Mark Farner) for the project.

Oktober 2002 John produced a CD by Australian country artist Kel-Anne Brandt. Kel-Anne was nominated for Best Female Vocalist Award in the "TIARA AWARDS" in Tamworth in 2002.
The sessions were recorded at Chris Webbe's studio Celestial Productions in Montville, Queensland.
John was reunited with his old pal Johnny Tillotson when JT performed at Twin Towns Services Club on The Gold Coast in Australia recently. Johnny was instrumental in John's early career when JB was his music director and lead guitarist in the 70's.

John produced an EP on Brisbane singer / songwriter Rebecca Willis whom he met at the first JOHN BELAND'S NASHVILLE SONGWRITING WORKSHOP this year.
"Rebecca was asked to sing a few songs she had written, as part of the class I was conducting".

Another "Best of John Beland" CD, a compilation of John's best work from The Flying Burrito Brothers as well as new solo material including his own versions of hits he has written for other artists was released 2002.
Guest artists include Ricky Skaggs, Alison Krauss, Sonny Landreth, Jo-El Sonnier, Buck Owens, Sam Bush and others.
CD comes with booklet featuring 22 vintage pictures of John through his career as well as extensive tracking info and liner notes.
THE VERY BEST OF JOHN BELAND is a must for anyone who has followed John's long and impressive career.
John Beland: The Very Best Of John Beland
- JOHN BELAND: The Very Best Of John Beland
Produced by John Beland
Musicians: John Beland / Buck Owens / Alison Krauss / Ricky Skaggs / Sonny Landreth / Larry Patton / Gary Kubal
Wayne Bridge / Jamie Whiting / Dennsi Belfield / Tony Harrell / Sneaky Pete Kleinow / Al Perkins Gib Guilbeau

Tracks: Sons of the Golden West / Bare bones / Area 51 / The man in Jenny's eyes / Forever you / Buckaroo
Monterey rain / Cowboy beat / Down at the Palomino / Guitar hall of fame / Up on Sycamore
Hard way to make an easy living / Never be anyone else but you / Pioneer Zephyr train / In an instant
Shadow hill / Isn't it amazing / Back to bayou teche / My old man
2003 - 2004

JB & Wild Geeses

John did a successful tour of the U.K., Scotland and Ireland, performing in acoustic listening rooms throughout the country. Highlights of the tour were "Ceol Castle" in Birmingham, "The Musicians Pub" in Leicester, "Bridgewater Arts Center" in Somerset, "The Famous Bein Inn" in Perth Scotland and "The Exeter Arms" in Rutland.

Following the UK tour John flew to Chicago where John performed a solo concert in his old hometown of Hometown Illinois. John was the guest of honor and Grand Marshall for the town's 50th anniversary celebration. Before his Sunday evening concert John was given a gold key to the city from Mayor Donald Robertson.
Old friends, class mates, and Beland family members were among the many in attendance for a very emotional concert evening by John.

Says John: "Well, whats there to say? I'm really honoured and excited about returning to the place where it all began for me. It's been a life long dream to go back home and perform for old neighbours and family friends.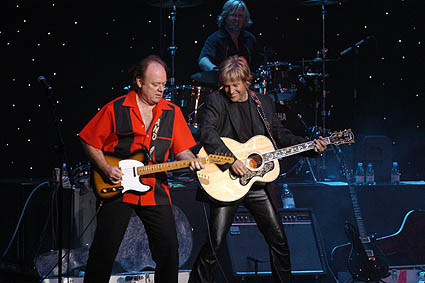 JB & The Nelsons

Although the homecoming is bitter sweet because of the passing of my parents. I know it will be a very special day for me."
John played lead guitar for Gunnar & Matthew Nelson (sons of the late Rick Nelson) for a series of dates with a cruise to the Caribbean on board the "Explorer Of The Seas". John first played with the brothers when they were only 12 years old.
Says John, "Gun and Matt great fellows and very much like their dad in mannerism and talent. They're just nice people, as Rick was. It's great to play not only Gunnar & Mathews material but re-visit some of the old classic songs I played with their dad 23 years ago. The bottom line is that they also rock out like their pop and that alone should be worth the trip."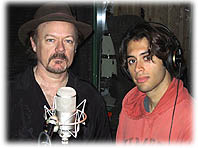 John & Josh Saber

John located to New Orleans where he intends to divide his time between the USA and abroad concentrating on production projects, songwriting, session work and touring. Says John: "I still consider Australia my second home and plan to continue producing country artists there, should the occasion arrise. However, I have decided to spend equal time here in the States to be closer to my children and to further expand my career boundries."

September 2003 John produced Baltimore based alternative pop band "September Playground" starting on the 11th of this month. The band is spearheaded by singer songwriter Josh Saber.
Say's John: "These guys are terrific. Josh's songs and heartfelt vocals combined with the band's solid playing will make this band a household name in the very near future. You can count on it! They have a unique but very commercial mainstream radio style that will definitely turn alot of heads. Watch out for these guys ... they're on the way.".

John's long awaited instrumental album "Silverado Morning" was released worldwide in January 2004.
This is John's first solo instrumental project ever. The CD features 13 tracks. 10 new original Beland instrumentals, as well as 3 remakes.
All tracks feature John on the Spanish nylon string guitar.
John said about this instrumental album:


"I tried to capture the style of those old Chet Atkins, Jerry Reed albums, instead of going for another self indulgent CD of fast "hot rod" riffs that only appeal to a select number of guitarists. This album is about melody, grace and passion...the kind of CD you could play when friends and loved ones are around, or just sitting at home with a nice cabernet, a roaring fire, and an old dog asleep at your heels. It's a guitar CD for everybody."
John Beland: Silverado Morning
- JOHN BELAND: Silverado Morning
Produced by John Beland
John Beland all instruments

Tracks: Silverado morning / Home from the fields / Desperate hearts / Flying with TY / Jowanna
Back roads / Let it be me / New harvest / Here comes the sun / Song for three sisters
Lullaby for Jennny / The boxer / After hours
Also 2004 John worked in the studio on a collaboration project with Michigan singer / songwriter Henry Doss and UK singer / songwriter Emma Rugg.
John & Larry Patton

Former Flying Burritos John & Larry Patton were back in the studio summer 2004 with a new duo project called "The Patton / Beland Band". John and Larry creatively spearheaded the latter day FBB, that recorded the critically acclaimed CDs "CALIFORNIA JUKEBOX" & "SONS OF THE GOLDEN WEST".
Larry & John have worked together since the late 80's when they played for country legend Bobby Bare and later with the new Flying Burrito Brothers. Says John "Larry and I are definitely "brothers in arms" and together have toured the world while making some amazing music over the years. I miss playing with him and look forward to embarking on a new chapter in our musical partnership. Hopefully, after cutting a new album, we can tour again and bring our music to not only past FBB fans but as well as a whole new legion of country rock listeners .... worldwide."
Larry & John said that the direction continued along the same lines as where they left off in the Flying Burrito Brothers, with the mix of Larry's famous trademark Texas honky-tonk blues style vocals (Bobby Bare called Larry "The best damned honky tonk singer in the world"), and JB's pioneering southern Cal country rock b-bending telecaster and sweet west coast harmonies.
Publicity pics were shot but the album remained unreleased.
2005
John released another new solo album with the title "JOHN BELAND'S BIG GUITARS - Volume One". The CD, which has been a pet project of John's for many years, is his tribute to the glory days of rock and roll guitar pop instrumentals of the late 50's and 60's.
These were the songs that JB first listened to when starting out on the guitar in the early 60's.
Says John: "This isn't an album of sound alikes as much as it is my interpretation of the essence & spirit of what these songs represent in our memories. In many cases, the original recordings were crude (by today's standards )and very simple, yet genious in their honesty and abilty to capture the hearts of rock and roll fans. My CD takes those songs and enhances them in the same way that famed artist Guy Peelaert captured the spirit of pop music in his beautiful book, "Rock Dreams". This is how we remember that sound and those records in our imagination, and it's my tribute to the great instrumentalists that influence my guitar playing, such as the Shadows, Ventures, Santo & Johnny, Duane Eddy, the Astronauts and many more. These songs were the soundtrack of our lives and it was a real treat to record them with all the reverence and passion they deserve after all these years."
John Beland: Big Guitars - Volume One
- JOHN BELAND: Big Guitars - Volume One
Produced by John Beland
Musicians: John Beland: guitars & vocals (on Suzie-Q)
Paul Wyman: bass, Hal Starkey: drums & percussion, Leon Cramer: piano
Felix Cortez: B3 organ, Boots Douglas: sax
Strings arranged and conducted by Lionel Tipton DeCaro

Tracks: Peter Gunn Theme / Baja / Because they're young / Cry for a shadow / Telstar
Curfew / Apache / Wild weekend / Perfidia / Pipeline / Sleepwalk / Suzie-Q
May 2005 John and Michigan rockers DUTCH HENRY wrapped up two weeks of sessions at Scott Zylstra's Frontier Studio's, just outside Traverse City, Michigan. The band has a strong mid-west following and has often been compared to The Clash, Jason & The Scorchers and Badfinger.
Say's JB: "This was the most fun I have had in a studio in years. The guys simply amazed me with their abilty to nail down potential hit after hit in just a few takes. Total pro's ... I guarentee that this band will be a international household name in 2005/2006. They're simply that good. Thanks for memorable session, guys!"

Pics above:
left - JB behind the board at Frontier Studios for the Dutch Henry sessions.
center - (from left to right) Engineer Scott Zylstra, Greg Miller (Dutch Henry), John Beland, Mitch Wood (Dutch Henry).
right - JB & DUTCH HENRY following the compleation of the sessions.
Later that year John produced an EP "Wating To Be Found" on Michigan songwriter / singer Kristine Seelye. The project brought John back to Traverse City Michigan and Frontier Studios.
Say's John: "Kristine plays beautiful acoustic piano and her deeply passionate style of songwriting can be compared to the works of Jimmy Webb, Karla Bonnoff and other great piano oriented adult contemporary writers. And ... she has an absolutely beautiful voice, which is the icing on the cake. The talent pool up here in Michigan simply amazes me, and I'm so delighted to be back once again behind the board with Scott at my favorite recording home, Frontier Studios, with yet another remarkable Michigan talent."
John recorded his first ever Christmas CD, titled "CHRISTMAS AT BAXTERS", later re-released as "A GOOD OL' FASHIION DOWN HOME COUNTRY CHRISTMAS".
The CD features mostly instrumental material (classical guitar / mandolin) with the exception of three vocal tracks, "LIGHT IN THE STABLE", the Jackson Browne tune, "THE REBEL JESUS", and Gordon Lightfoot's classic "WINTER'S NIGHT".
Christmas At Baxters / A Good Ol' Fashion Down Home Country Christmas
- JOHN BELAND: Christmas At Baxters / A Good Ol' Fashion Down Home Country Christmas
Produced by John Beland.
John Beland all instruments

Tracks: Winter's Night / Waliking On Air / What Child Is This / Christmas Times A-Coming
White Christmas / Jingle Bell Rock / Noel / Good Old Fashioned Down Home Country Christmas
Little Drummer Boy / Glorin (Les Anges Dans Noe Campagnes) / Have Yourself A Merry Little Christmas
Light Of The Stable / Auld Long Syne (The Good Old Days)
2006
John produced the new "10 CITY RUN" CD for UNIVERSAL SOUTH RECORDS titled "SOMETHING ELSE".
The 3 piece band, signed by Tim DuBois at Universal / Nashville, is based out of San Antonio, Texas.
- Here are some pics from the "10 City Run" recordings -
JB & Engineer
Clayton Scott at work
on "10 City Run" CD

JB conducts strings
for "10 City Run"
session

JB "Banjo Man"
playing the Gibson -
Mastertone 5 string

JB in
San Antonio, Texas
at the Alamo

Shortly after the "10 City Run" recordings, John produced "Triple Nickel". The widely popular country band hails from the Colorado Springs area. Members are: Lee W. Gladney, Todd Skoglund, Ed Schifferns, Ed Jordan, John Hefti, Bill Small
They recorded the song "Louisiana lonely" which was recorded by John and Gib Guilbeau for their unreleased third album as the Burrito Brothers.
JB & Bill Douglas
"Royal Recording"

Colorado's own "Triple Nickel Band"
at "Royal Recording"


"Sounds like a dang hit!!!"
JB & Bill at "Triple Nickel" session

A new tribute CD to Ricky Nelson was released 2006.
The title of the CD is "Easy To Be Free: The Songs Of Rick Nelson"
Album features guest performances by Marshal Crenshaw, singing "Don't Leave Me This Way",
Nitty Gritty Dirt Band member John McEuen, doing "Believe What You Say"
and John Beland doing a great version of "Young World".
2007 - 2009
2007 John released another instrumental CD with the title "CAST YOUR FATE TO THE WIND / THE GREATEST LOVE SONGS OF ALL TIME".
The album features John on classical guitar performing great romantic standards. Says JB "These are some of the most beautiful melodies of all time. Songs that will take you back in time. Many of these songs I perform when I'm playing a solo classical guitar event and they all seem to tug at hearts everywhere. It's a great CD for intimate evenings.".
John Beland: Cast Your Fate To The Wind
- JOHN BELAND: Cast Your Fate To The Wind
Produced by John Beland
John Beland playing all instruments.

Tracks: Cast your fate to the wind / Only love can break a heart / Love is blue / Scarlet ribbons
Mandy / If you could read my mind / Unchained melody / I will always love you / Somwhere
Walk way Rene / Annie's song / I can't help falling in love with you / In my life
Beland, Will Roberts & Patton in Norway

Summer 2007 JB & former Burrito Larry Patton (BELAND & PATTON) appeared at the Ose Country Music Festival in Setesdal Norway.
On drums was former Bobby Bare bandmate, and long time fellow musician, Will Roberts.

Beland & Patton

On the bill with Beland & Patton were country star Pam Tillis and British hit legend, Paul Young.
The guys performed as a trio, something they have done together, worldwide, for over 25 years.
The set list included some hard core rockabilly, honky tonk and Texas blues numbers as well as a few later day Flying Burrito Bros nuggets from their FBB albums.

Beland & Patton recorded again songs for a new CD with the title "DIXIE MOTEL".
Recorded were new songs by John & Larry, as well as a few covers such as "Ashes of love", "Mental revenge" and "Shambala".
The CD was produced by John and Larry and recorded at John's studio (El Tyler Trax) in Brenham Texas.
But again this CD still remains unreleased!

John recorded the song "We shall rise above it all" for the compilation CD "Heart of a hero - For all the wounded warriors" which was written by John & Gib Guilbeau and released on "Breakin' Records".

John recorded a DVD while performing in Norway February 2008 at "The Hall Of Lindesnes".

2008 John produced and arranged the new debut CD "It's about time" on radio personality, and Toronto based singer, Hugo Stranley. Sessions took place at John's Texas studio and up in Port Hope, Canada.

Another "Best of ... " CD was released 2008 including a brand new recording of a new Beland song "Tender Heart".
John Beland: The Flying Burrito Bros Years
- JOHN BELAND: The Flying Burrito Bros Years
Produced by John Beland

Tracks: Area 51 / World Without You / Down At the Palomino / Back to Bayou Teche / Rosetta Knows
Buckaroo / Sons of the Golden West / San Fernando Road / Pioneer Zephyr Train
(Calling Me Back To) The Wild Wild West / Pull This / Anyone Else but You /Up On Sycamore / Locked Away
Bonus track: Tender Heart

JB single

June 2008 John and son Tyler appeared together onstage at the "8th Avenue Club" in Vanse, Norway.
This was their first gig of a 2 month tour throughout the country. It's also the very first time the two have ever appeared onstage together.

In September John released a new single "Eddie's got a gun".

Late 2008, early 2009 John completed recordings for the PG & FRANK CD "Chasing the wind" in Kristiansand, Norway.

February 2009 John produced Arny Egeland.
2010
Mai 2010 John released John Beland's Big Guitars Vol. 2 recorded with full band in Texas.
John says: "These are the songs and the legacy of the Big Guitars ... the backbone of early rock and roll. The dark sound of the 50's and 60's ... that influenced countless bands to come. So crank up the volume, pop open a cold one, close your eyes and hold your lover close ... and remember ... how the world used to be."
Visit John's official page for more info!
John Beland: Big Guitars Vol. 2
- JOHN BELAND: Big Guitars Volume 2
Produced by John Beland
Musicians: John Beland: all guitars, vocals on "C'mon everybody", Paul Wyman: bass
Hal Starkey: drums, Leon Kramer: piano, Felix Cortez: hammond B3 organ & Boots Douglas: horns.

Tracks: Wham / Theme from the magnificent seven / Walk don't run / Last night / The lonely bull / Hideaway
Sweet dreams / Rebel rouser / Love is strange / Miserlou / Memphis / I love how you love me
Secret agent man / C'mon everybody
John produced and also plays and sings harmonies on the new Buck Johnson album "The Morning After".
For more info visit Buck Johnson's official web-page!
2012
John Beland & Larry Patton released a new CD with the title "Reach for the sky!".
Patton & Beland: Reach For The Sky!
- PATTON & BELAND: Reach For The Sky!
Produced by John Beland & Larry Patton
Musicians: John Beland: all guitars, keys, mandoln & vocals
Larry Patton: bass & vocals, Will Roberts: drums.

Tracks: The Thinker / Let Me Be The One / Shambala / San Antone / Love Like This / Tender Heart
Ashes Of Love / Heart Don't Fall In Love / Your Memory / Go Ahead And Cry / Mental Revenge / It Must Be Love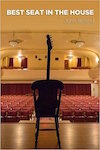 Best seat in the house

In July and August John & Larry Patton toured Norway and Denmark.

A lot of projects from 2012 to 2018 ..... find info on John's own home page!
2018
John Beland wrote a book "The best seat in the house"!
I'm so happy about this book. John Beland's career with personal background stories. A must have in your collection!
Available in paperback and kindle version!
Go to the table of contents again