WAYNE MOORE (Part 1)
In the beginning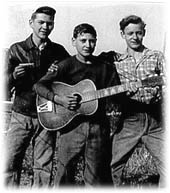 Brother Chuck, Wayne
and cousin Pete

The story of Wayne Moore begins in Livingston, Kentucky where Wayne was born on August 24, 1938. Initially interested in country and bluegrass music, Wayne didn't actually start playing an instrument until his family moved to Richmond, Indiana in 1949.
Wayne of age 16 -
"his first
professional gig"

Wayne became interested in the guitar after receiving one as a gift from older brother Vernon at the age of thirteen. Self taught on the guitar, Wayne's early influences were Mac Wiseman, Johnny & Jack and especially the Louvin Brothers whom he heard on the radio.

After meeting some local musicians and forming a band at the age of sixteen, Wayne's attention turned toward Elvis Presley, who would be the guitarist's biggest influence. "I started learning how to play country," explains Wayne, "then we got a job in a club and Elvis had come out, and we started playing rock'n'roll like Little Richard, that stuff..... .".

In 1955 Wayne became a member of the "Cecil Holiday Band". After about a year he joined Dale, Gary and Larry Gentry in their group "The Rhythm Masters". They played shows around Indiana and Ohio and soon had their own radio show at WKBV in Richomond, Indiana. They played both country and rock.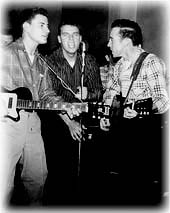 "Cecil Holiday Band"
(Wayne on the left side)

In 1957 Wayne moved to Lubbock, Texas where he stayed with friend Larry Welborn, who at the time was working with Buddy Holly and the Crickets. Larry introduced Wayne to local musicians where he joined up with the "Bill Smith Band" in Fort Worth, Texas.

By 1958 though, Wayne had become restless and decided that California "would be a good place to get stared in music".

Wayne made it to California but ended up doing janitorial work for a few months around Santa Ana but still had hopes of entering the highly competitive musical scene in the Los Angeles area. Looking of a better line of work Wayne wandered into a local unemployment office one day where a picture on one of the employees' desks caught his attention. The girl had a picture of Gib and Darrell and the guys on her desk. I said, "Do you know these guys?", and she said, "Those are my boys". After Wayne explained that he was a musician, the lady, who was the band's manager, suggested he get in touch with Gib, Darrell and Ernie since they might need a lead guitarist. After a quick phone call and a meeting with the trio, Wayne was invited to join the group as lead guitarist.

Gib, Darrell and Ernie consisted of Sunset's, Louisiana native, Floyd "Gib" Guilbeau on guitar and occasional "cocktail drums", Darrell Cotton from Sioux City, Iowa also play guitar with the band and Ernie Williams, hailing from Salt Lake City, Utah handled the bass chores. The trio had all met while serving in the Army together and, after being discharged, had ended up in southern California, "bouncing around, looking for club gigs", recalls Gib Guilbeau. As "Gib, Darrell and Ernie" the threesome had already cut a couple singles, among them, "I goofed/Mirror mirror on the wall" and "Just or unjust/Don't bet on a promise" for the Shasta label of North Hollywood.

Wayne's addition meant a name change for the band................

Go to the table of contents again | ............. continue the Wayne Moore biography