Country Gazette (Part 1)
In the beginning
Before Gene Clark left "Dillard and Clark" the group played a lot of acoustic music. As Gene Clark left the group at the end of 1969, other members also decided to go other ways. David Jackson (ex-Hearts and Flowers member with Bernie Leadon) the groups bass player and also Donna Washburn (she went with Joe Cocker). Only Byron Berline stayed with Doug Dillard. Billy Ray Lathum, ex-member of the "Kentucky Colonels" bacame the new guitarist, Roger Bush also an ex-member of the "Kentucky Colonels" the new bass player.
"Dillard & The Expedition"
Berline/Dillard/Bush/Lathum

At the Ash Grove

Doug & Byron
In November '69 when Gene Clark was gone, "Dillard and Clark" had to do one more TV-show "Hee-Haw". They bacame "Dillard & The Expedition" - some people from the TV-show team came up with the name, the band liked it and stayed with the name.


Byron Berline

With the exception of the track "Runaway Country" on the soundtrack album for the movie "Vanishing Point" starring Barry Newman, no other recordings have been issued by this line up. The Doug Dillard Expedition did studio sessions but nothing was released on record. They played in bars etc. in California, Las Vegas and Hawaii. Old friends often joined them on stage and all night picking sessions were not uncommon with such people as Clarence White, Skip Conover (former member of "The Golden State Boys"), Don Parmley ("The Hillman") and others.

In Jannuary 1971 the Kentucky Colonels did a private reunion session at Clarence White's house in Topanga Canyon. Musicians were Clarence and Roland White, Byron Berline, Roger Bush, Billy Ray Lathum and LeRoy Mack McNees.

During this time Doug Dillard was doing a lot of studio sessions and so Byron Berline and Roger Bush decided to form a new band - COUNTRY GAZETTE.

Byron Berline was born in 1944 in Caldwell/Kansas and grew up on a farm in Oklahoma.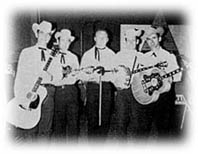 "Stone Mountain Boys" - 1965
Royce Campbell, Mitch Land
Byron Berline, Ed Shelton
Glenn Merrick

His father was a fiddle player and he tought him a lot of old fiddle tunes. He went to Oklahoma University and met some people who played bluegrass, including Alan Munde. Byron and Alan formed a band at that time the "Cleveland Country Ramblers", who earned some money playing bluegrass on weekend dates during the school terms.
1963 The Dillards came to Oklahoma University the day Kennedy was killed. Byron went backstage to meet them and played a few tunes with the band in their dressing room. The Dillards were so impressed that a couple of months later, they asked Byron to play on their next album. This was recorded in July 1964 and was released as The Dillards with Byron Berline "Pickin' and Fiddlin'".
Same year Byron became "National Fiddle Champion" for the first time in Weiser, Idaho.


Roger Bush

Next he became a member in Bill Monroe's band. After the army, where he played in bands like the "Stone Mountain Boys" (more about that group later), he went back to California to do a lot of sessions and joined with "Dillard and Clark" from which Country Gazette eventually sprang.
Byron's first recording after moving to LA, was on The Nitty Gritty Dirt Band's "Uncle Charlie & His Dog Teddy".

Roger Bush was born on September 16, 1940 in Hollywood and raised in El Monte, taught himself guitar, and learned country songs at family get-togethers. When he left high school he started a bluegrass group with his brother, Sherman, "The Green Mountain Boys", a group that included future "Golden State Boys" Don Parmley and Tom Kuehl. Later he met Clarence and Roland White who taught him how to play upright bass and who formed the "Country Boys" and became later the "Kentucky Colonels". Roger became the bass man and spokesman for the group replacing Eric White, the brother of Roland and Clarence. Roger bacame a member of "The Country Boys" 1961 and left "The Kentucky Colonels" 1966.
Roger disappeared from the music scene and ended up working in a machine shop until September 1969 when he met Byron Berline at the banjo and fiddle contest of the "San Gabriel Valley Bluegrass Assosciation&quot, and Roger joined "Dillard and The Expedition".

Here are a few little sidenotes: Apparently when Berline and Bush were trying to put the group together they first approached banjo player Dennis Coats and guitarist Gary Carlson to join. These two muscians had previously played in a well-known L.A. bluegrass outfit, "The Joplin Forte". Both Coats and Carlson were exceptional musicians and well respected in the area. Coats learned banjo from Don Parmley; Carlson took lessons from Clarence White and lived just down the street from "Golden State Boy" Hal Poindexter in Artesia during the early 1960s.
"Dennis and I were working as a duo and Byron saw us at The House of the Rising Son", recalled Carlson. "Byron said: 'You guys are great! I want to start a band and I want you guys in it.' His idea was only bluegrass. We didn't want to play only bluegrass. We were young and wanted to expand and do other things electrically. I was playing electric string bender guitar, Clarence White-style, by this time. We were really against it (joining Berline) at that point and time."
Coats and Carlson were looking to do something in the country-rock field in 1971 and did not want to play straight bluegrass again so they declined Berline's invitation.
Country Gazette - 1971
Pedersen/Berline/Bush/Wertz

They asked Herb Pedersen to join the group. Herb Pedersen liked the idea to play more acoustic music and joined the band. (Ex-guitarist of "Dillard and The Expedtion" Billy Ray Lathum changed to the Dillards to play again the banjo.)

Note: There were a few more early short-term members of Country Gazette. This was before Kenny Wertz came into the group and right after Lathum left the Expedition. It's not sure that the group was even called "Country Gazette" at this time. Steve Stambaugh, a L.A. guitarist, formerly with a group named "Wild Oats" in 1970, accompanied the band to Washington in early 1971 on a short tour with Pedersen, Bush and Berline.

Stambaugh stated: "Byron liked my singing. I had never met those guys but I sort of idolized them. I had seen Herb playing guitar and singing with the Earl Scruggs Revue and he was really great - just aced it." Stambaugh recalled rehearsing with the group stating that "the first thing I noticed was none of those guys made a mistake - they were princes to work with." Unfortunately Stambaugh decided he needed to finish work on his master's degree and therefore could not join the group permanently.
Kenny Wertz

Also, Randy Graham has stated in an interview that he played with the group during this period.

The new guitarist was Kenny Wertz and COUNTRY GAZETTE was born 1971.

Kenny Wertz started his musical career on the clarinet in 1952 and also sang in the local church choir. He became involved in the early sixties folk boom whilst living in San Diego and began playing guitar and five-string banjo, gathering experience with severl bands including "The Shady Canyon Boys" and "Avery Pitts". He participated in "Les Baxter's Balladeers" a clean-scrubbed conglomeration which happened also to include David Crosby. Turning more to bluegrass later, he was a member of the "Scotsville Squirrel Barkers" with Chris Hillman. Kenny turned down an offer to join "The Dillards". In spring 1971 Byron Berline persuaded Kenny to join the Country Gazette. Kenny also appeared in many television, movie and entertainment park events during the '70's.

After Herb Pedersen left, Pat Cloud played banjo briefly with Kenny Wertz, Byron Berline and Roger Bush.

For a time Country Gazette were members of THE FLYING BURRITO BROTHERS and recorded the live Flying Burrito Brothers album "Last Of The Red Hot Burritos". The summer of 1971 had seen the formation of a bluegrass core within the framework of the Flying Burrito Brothers.


The Flying Burrito Brothers - 1971
Perkins/Roberts/Hillman/Berline/Wertz/Clarke/Bush
Byron knew a lot of the guys from playing sessions with The Byrds in 1969, began sitting in on various gigs from early '71 and was joined by Kenny Wertz who was invited to play in the band in August 1971 (following the departure of Bernie Leadon to be a member of the "Eagles") by his old buddy from the "Scottsville Squirrel Barkes", Chris Hillman. A month later Roger Bush played the bass, just in time to play on the "Last Of The Red Hot Burritos" album. This album came out in June 1972.
The Flying Burrito Brothers: Last Of The Red Hot Burritos
- THE FLYING BURRITO BROTHERS: Last Of The Red Hot Burritos (A&M Records SP 4343)
Produced by Jim Dickson
with Chris Hillman, Al Perkins, Rick Roberts, Michael Clarke, Kenny Wertz, Byron Berline & Roger Bush

Side A: Devil in disguise/Six days on the road/My uncle/Dixie breakdown/Don't let your deal go down/Orange Blossom Special
Side B: Ain't that a lot of love/High fashion queen/Don't fight it/Hot Burrito #2/Losing game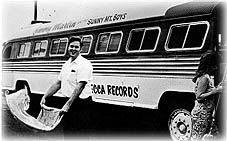 Alan Munde when he
was with Jimmy Martin

On August 18th the Flying Burrito Brothers recorded at the "Record Plant" in L.A. a show produced by Jim Dickson for "KMET-LA". Bob Gibson was singing as a guest on a few songs. The Flying Burrito Brothers were Chris Hillman, Rick Roberts, Al Perkins, Kenny Wertz, Michael Clarke, Byron Berline, Roger Bush & Bernie Leadon. Bernie Leadon had already left the band but sat in with the band for this recording.
Alan Munde

Herb Pedersen was not a permanent Country Gazette member, he wrote a few songs for the band but didn't like to travel too much. Alan Munde became the new banjo player and Herb Pedersen played as a guest musican on the first albums.

Alan Munde learned banjo from one of Oklahoma's best pickers, Ed Shelton, and did a lot of non-professional playing around Oklahoma where he first met Byron. They occasionally picked together as the "Bluegrass Gentlemen", a group which also included musicians as Albert Brown and Walter Hawkins, they had the distinction of having their own TV-show for about eight weeks on an Oklahoma U.H.F. station.

It was through Ed Shelton that Alan met three fine Dallas bluegrass pickers - Mitchell Land, Louis "Bosco" Land and Harless "Tootie" Williams - and the four of them joined forces to form "The Stone Mountain Boys" 1965.

"Stone Mountain Boys" - 1965
Mitch Land, Alan Munde
Harless Williams, Louis Land


"Stone Mountain Boys"
Berline/Williams/Munde
Land/Craft
Note: The "Stone Mountain Boys" have been somewhat analogues to the Monroe Bluegrass Boys - they served as trend-setters, being among the first "bands" in the Texas-Oklahoma-Louisiana area. The "Stone Mountain Boys" have also served as a proving ground for some of the finest young bluegrass musicians: Alan Munde, Byron Berline and Dave Ferguson - all three "Country Gazette" members.

"Poor Richard's Almanac"
Bush, Munde & Stewart

The band as most people knew it, however, featured Ed Shelton and Lonnie Craft with Mitchell and Tootie. This was the band seen most often at the festivals and shows. Other members over the years were Johnny Thorne, Jerry Godwin, James Durham and Bob Davis. It was at the first Winfield, Kansas festival where talent scout John Delgatto heard them and later recorded them for the classic album "Stone Mountain Boys" on the Los Angeles based Takoma/Briar label (7204) and on Trio Records of Japan. The album was released 1974 and produced by Byron Berline and featured Ed Shelton, Byron Berline, Mitchell Land, James Durham, Tottie Williams and Bob Davis. (More about the "Stone Mountain Boys" later - 1978).

Alan graduated from college in January of 1969. He moved to Hopkinsville, Kentucky and formed a group with Wayne Stewart and Sam Bush. They recorded an album during Easter Weekend 1969 as "Poor Richard's Almanac". This idea came from Wayne Stewart to form this group with Sam Bush. Guest on that album is Leo Fernandez who plays the bass. This album was recorded on a home tape machine and was released by American Heritage Records (401-25) 1969 and by Ridge Runner (RRR 0002) 1976 with a different cover.

Note: Sam Bush and Wayne Stewart decided to go to L.A. in 1970. (Sam never made it but Stewart did.) The reason they were heading to the West Coast was to join Doug Dillard and Byron Berline. "Their plan was to join Doug Dillard and me," said Berline. "That was their plan, but we didn't know anything about it.!"


Ridger
Runner

Poor Richard's Almanac: Poor Richard's Almanac

American
Heritage

- POOR RICHARD'S ALMANAC: Poor Richard's Almanac (American Heritage 401-25 & Ridge Runner 0002)
Produced by Wayne Stewart, Alan Munde & Sam Bush
with Sam Bush, Alan Munde, Wayne Stewart & Leo Fernandez

Side A: Tall cotton/Poor Richard's blues/Molly bloom/Dusty Miller/Drunken Billy Goat/Lady's fancy/Other side of Baker/John Hardy
Side B: Li'l Joseph/Oklahoma rag/Julbilee/Cotton patch rag/Fiddler's dream/Fussing banjo/Billy in the lowground/How far it is to Goodland/Sally Goodin'/Little Bighorn
"The Flying Burrito Brothers - 1972"
Kenny Wertz/Byron Berline/Rick Roberts
Roger Bush / Don Beck / Alan Munde

After playing bass on the b-side of a big local hit by "Harlow Wilcox and the Okies" Alan Munde moved to Nashville where he picked up steady sessions work and played with Jimmy Martin. Munde's association with Jimmy Martin lasted exactly two years, during which time three different albums where Al's banjo picking can be heard were recorded. In October of 1971, he quit "The Sunny Mountain Boys" and recorded his first solo project.

Alan recorded his 1st solo album for Cambridge Records (8607) recorded from Oct. - Nov. 1971 in Norman, Oklahoma "Al Munde Plays Blue Grass". Other musicians on that album are: Bobby Warren - drums, Johnny Bemand - bass, Johnny Vaughn - steel, Russel O'Neal - fiddle, Paul Scott - guitar & Doyle Butter - bass.

Alan Munde: Al Munde Plays Blue Grass
- ALAN MUNDE: Al Munde plays Blue Grass (Cambridge Records 8607)
with Alan Munde, Bobby Wanen, Johnny Bemand, Johnny Vaughn
Russel O'Neil, Paul Scott, Doyle Butter

Side A: Black Jack/I'll fly away/Gray Bonnett rag/Rubin/Beaumont rag
Side B: Faded love/Peachie pie/Cripple creek/Cumberland gap/Flying red
Alan called Byron and told him that he wanted to go out to California, and if anything came up, to call him.
The Flying Burrito Brothers still had contractual commitments, they were booked to play in Europe 1972. The Flying Burrito Brothers' Jan. 1972 tour was planned to incl. more or less the people from the "Last of the Red Hot Burritos" album, but shortly before leaving for that tour, Hillman, Kleinow, Clarke etc. stepped out.
The Flying Burrito Brothers - 1972
Roberts/Dalton/Munde/Beck/Berline/Bush/Wertz

Dalton/Munde/Wertz
Roberts/Beck/Berline/Bush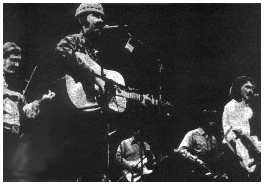 Berline/Wertz/Munde/Beck/Roberts

Byron Berline and The Gazette then set about finding guys to fulfil the Burrito's Dutch commitments, but they also played in Denmark and England. Byron called Alan Munde and asked him if he wanted to go with him on this Burrito tour to play electric guitar and banjo and then after that was over, to come to California to play with Country Gazette. The first time Alan ever met half of the guys was in New York City, and then the first time he ever played with them was on the stage when they did the show. Byron also persuaded Rick Roberts, who had been a Flying Burrito since 1970, to stay in the fold whilst sheperding in Eric Dalton and Don Beck to play drums and pedal steel respectively. Don Beck had been a member of the first "Dillard and Clark" group around 68/69 and had thus contributed dobro and mandolin to the excellent "Fantastic Expedition" album. Don Beck also released a solo album 1969 for Pete Records (1110) "The Banjo Revolution Of Donald Beck".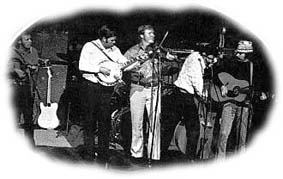 "The Flying Burrito Brothers - 1972"
Don Beck/Alan Munde/Byron Berline
Roger Bush / Kenny Wertz

Their first show was at Breda/Holland on Jannuary 1st 1972 and they were booked as "The Flying Burrito Brothers". A show in Amsterdam was recorded and released on vinyl several times:

The very first issue on vinyl was, shortly after the show, an LP called:
"Sin City" on Offshore (OF 721) a Bootleg album,
and later the double LP:
"Live in Amsterdam" on Ariola (86 439 XCT) released 1973 which shows the country-rock side of the group.
This album was also released on:
Philips (6641 - 144) 1973 in UK and Holland and
on the UK label Bumble (GEXD 301) in March 1973.
Ariola also released from the same concert the LP:
"Blue-Grass special" (Ariola 86501) which shows the bluegrass part of the show. Later after the Netherland Ariola releases there was a LP called:
"In Concert" also released by Ariola (225000ET).


"Amsterdam"
Ariola cover

The Flying Burrito Brothers: Live in Amsterdam

"Sin City"
Offshore bootleg

- THE FLYING BURRITO BROTHERS: Live in Amsterdam (Ariola 86 439 XCT))
with Rick Roberts, Byron Berline, Kenny Wertz, Alan Munde, Roger Bush, Don Beck & Eric Dalton

Side A: Six days on the road/The image of me/Four days of rain/My uncle/Shenendoah Valley breakdown
Side B: Sing me back home/Hands to dedication/White line fever/Why are you crying/Roll in my sweet baby's arms/The Salty Dog blues
Side C: Wild horses/She thinks I still care/The wild side of life/Ruebin's train-Foggy Mountain breakdown/Dixie breakdown
Side D: Colorado/She makes me lose my blues/Sin city/Devil in disguise/Roll over Beethoven/Six days on the road
Bluegrass part of the "FLYING BURRITO" tour 1972
Munde / Bush / Bush / Wertz
"Blue-Grass"
Ariola cover

The Flying Burrito Brothers: Blue-Grass Special

"In Concert"
Ariola cover

- THE FLYING BURRITO BROTHERS: Blue-Grass Special (Ariola 86 501 HT))
with Rick Roberts, Byron Berline, Kenny Wertz, Alan Munde, Roger Bush & Don Beck

Side A: Orange Blossom special/Bugle call rag/Uncle Pen/Shenendoah Valley breakdown/Don't let your deal go down/Oklahoma breakdown
Side B: Roll in my sweet baby's arms/Salty Dog blues/Listen to the Mockingbird/Rueben's train/Foggy Mountain breakdown/Dixie breakdown
After that short and highly succesful European tour "The Flying Burrito Brothers" retourned to USA to play in New York City and then they returned to Los Angeles in late February of 1972 for one last concert. It was quite a show, The first part of their set was hard country-rock with Alan playing some fine electric guitar.The second part of their act was straight bluegrass with no electricity, ending with another strong country-rock set. Summer of 1972 they worked at Disneyland and soon landed opening spots for Steve Miller, Crosby & Nash and Don McLean.
Go to the table of contents again | ............. continue the Country Gazette bio- and discography