JOHN BELAND (Part 3)
Solo & session guitarist (1973 - 1979)
1973
John Beland and Johnny Tillotson at "Bob Woods Music" in Del City Oklahoma 1971. (Photos courtesy of Kenny Davis, now a steel guitar virtuoso.)
| | |
| --- | --- |
| Tillotson, Kenny Davis, JB | John playing banjo |
Arlo & John

Swampwater left Linda Ronstadt in 1972 and worked exclusively for ARLO GUTHRIE for about 18 months when John left Swampwater leaving Gib, Stan & Thad to work for Arlo for about another 6 months.

After John Beland left Swampwater - John had high hopes for commercial success for the band and it was now becoming clear that it wasn't to be - he met country/pop singer JOHNNY TILLOTSON and toured England with him as lead guitarist and music director. Tillotson and Beland toured Europe solid for two years working military clubs throughout Germany and England. While in England, Tillotson gave a copy of Beland's demo tape to "Apple Records" head Tony King. King liked the tape and passed it on to Beatle Ringo Starr, who also liked what he heard and instructed King to sign John up to Apple Records in 1973. John became an Apple artist and went on to produce a solo album titled "JOHN EDWARD BELAND". However, a few month later Apple froze up in litigation and John finished the album for Scepter Records:


John Beland album
- JOHN BELAND: John Edward Beland (Scepter SPS 5113)
with: John Beland, Sneaky Pete Kleinow, John Ware, John Selk, Paul Parrish
Thad Maxwell, Alex DelZoppo, Joe Lamano, John Livigni, Johnny Tillotson.
Track list:

Banjo man
Back on the road again
The music shop
Jamaica bound
Turning out right
Old folks at home
Going home
Love don't let me down again
Prairie breezes and ballerinas (for Sarah)
A song for Hank Williams
Good-bye
One single was released:
John Beland single
- JOHN BELAND: Banjo man/A place to rest my head (Scepter 12381)

Note: B side of the "Banjo man" single "A place to rest my head" is a non-album track.

- JOHN BELAND: A song for Hank Williams/??? (Scepter 12389)
John was still working with Tillotson, who took him to Nashville where he played on Johnny's Columbia sessions, produced by BILLY SHERRILL. There, John shared the session chair with such greats as Pete Drake, Hargus "Pig" Robbins, Buddy Harmon, Ray Eddington and Jimmy Capps. Sherrill was so impressed by John's playing that he offered him a position in his "A"-Team session band. Beland, however didn't want to move from Hollywood and declined.

1974 - 1977
John & Kris Kristofferson

Back in L.A. John got a call from KRIS KRISTOFFERSON to work with him. Kris was a major superstar at that time. John took the job and hit the road with Kris and his new wife Rita Coolidge. Beland played on their recordings as well. John played on:

John Beland with Kristofferson

- KRIS KRISTOFFERSON: Spooky lady sideshow (1974)

John also played on a second Kristofferson album recorded in Nashville which was never released. Those unreleased Kristofferson sessions featured John Beland on guitar, Roger McGuinn on 12 string and Larry Gattlin on acoustic guitar.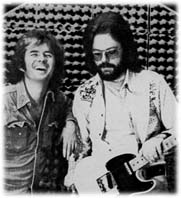 Johnny Tillotson & John

Also in 1974 John plays guitar on:

John Beland musician

- BILLY WALKER: Going home (1974)
- DIGBY RICHARDS: Digby Richards (1974)
- BOB NEUWIRTH: Bob Neuwirth (1974)

Note: The Bobby Neuwirth album was produced by Thomas Jefferson Kaye.
Musicians are John Beland, Chris Hillman, Richie Furay, Ben Keith, Kris Kristofferson,
Rita & Priscilla Coolidge and others. One song part written with Roger McGuinn.


After that he worked again with Johnny Tillotson. 1975 John played guitar on the Johnny Tillotson sessions produced by Billy Sherrill recorded at the CBS studios in Nashville:

Willow county line (written by John Beland)
Lost myself a lover again (Jules Sheer)
John & The Bellamy Brothers

Musicians on that songs: Johnny Tillotson, John Beland (guitar), Pete Drake (steel), Jimmy Capps (guitar), Ray Eddington (guitar), Buddy Harmon (drums) and Hargus "Pig" Robbins (piano)

In 1975 he had an offer to go with the BELLAMY BROTHERS. Howard and David had recently released their debut Warner/Curb single "Let your love flow" and had found themselves "overnight" pop stars. John not only toured with the Bellamy's, he also took an active role in their follow up LP:

John Beland with the Bellamy Brothers

- THE BELLAMY BROTHERS: Plain & fancy (1977)

Note: Bonnie Tyler once stated that the guitar played by Beland featured on "Crossfire", a smash hit in Europe, was used as inspiration for her own smash hit "It's a heartache".

1975 Johnny Tillotson released a single on Columbia Records (5-010125) which was produced by Joe Guercio. "Big Ole Jean" written by John Beland & Johnny Tillotson and "Mississippi Lady" written by John Beland.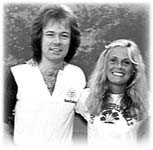 John & Kim Carnes

John Beland left the Bellamy Brothers after a lot of touring. Now, John was asked to play guitar for singer/songwriter KIM CARNES. Kim was preparing for her first major tour as opening act for Neil Sedaka. Beland joined up and hit the road again. John also appeared with her on the NBC music show "Midnight Special". John also played on a few Kim Carnes albums:

John Beland with Kim Carnes

- KIM CARNES: Sailin' (1976)
- KIM CARNES: St. Vincent's court (1979)
- KIM CARNES: Romance dance (1980)

In 1976 John was part of an album containing songs, poetry and prose all written by Woody Guthrie. Other artists appearing included Arlo Guthrie, Hoyt Axton, Doug Dillard, John Hartford, Peter Yarrow, Seals & Crofts, Ramblin Jack Elliott:

John Beland musician

- VARIOUS ARTISTS: Woody Guthrie - We ain't down yet (Creem 1002)

Also 1976 he played electric guitar on:

John Beland musician

- BACK POCKET: Buzzard Bait (Joyce Records JJ 7601)
with Pat Robinson, Pat Maroshek, John Beland, Gib Guilbeau, Thad Maxwell, Larry McNeely ...

In 1976 John Beland was asked to replace departing guitarist James Burton for Elvis Presley. John was asked by conductor JOE GUERCIO. James was leaving Elvis for Emmylou Harris and Joe called him for the gig. John learned the show and met Presley. However, James decided to stay with Elvis at the last minute , which forced Emmylou to hire Albert Lee. John went back to work with Johnny Tillotson.
John had worked with all of the Presley band and Joe for numerous sessions in Las Vegas " L.A.
In fact they played on two John Beland unreleased solo cuts that Guercio produced on John Beland at RCA/Hollywood.
Those songs were:
Lalina
Big shot

Produced by Joe Guercio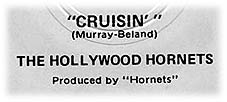 Musicians: John Beland (guitars), Ronnie Tutt (drums), Jerry Scheff (bass)
Glen D. Hardin (piano), The Sweet Inspirations (vocals).
1976 John was involved in recording an album which is unreleased.
Although a single by the group called "Cruisin" was a hit in Australia on Image Records. It was a silly little "Beach Boys" type song Larry Murray and John Beland wrote. It didn't make the album.


Hollywood Hornets single
- HOLLYWOOD HORNETS: Cruisin'/Bound to explode (Image IS-193)
Produced by "Hornets" - that's John Beland, Larry Murray & Brian Cadd.
Both songs written by John Beland and Larry Murray!
"Cruisin'": Lead vocals by John Beland.
"Bound to explode" Lead vocals by Larry Murray.
Harmony vocals on " Bound to explode" John Beland & Brian Cadd.
Musicians: Jim Keltner - drums, Emory Gordy, Jr. - bass
Alan Lingrin - keys, John Beland & Richard Bennett - guitars.
The album is forever in the can:
Unreleased Hollywood Hornets album
- HOLLYWOOD HORNETS: Hollywood Hornets (Warner/Tattoo)
Produced by John Arrias and "The Hornets" - that's John Beland, Larry Murray & Brian Cadd.
All songs written by John Beland, Larry Murray & Brian Cadd!
Tracks: Celebration / Tell me it ain't so / Angie (look at the shape I'm in) / Better break away / Hymn for Rosie / Another side of me / Midnite on the avenue / Notify someone / Bound to explode / It shall remain
Musicians: John Beland, Larry Murray, Brian Cadd, Jim Keltner, Ron Tutt, Larry Brown, Emory Gordy Jr., Richard Bennett, John Hug, Jefferson Kewley, Alan Lindgren, Bill Cuomo, Doug Lavery, Rodney Dillard, Linda Dillard, Gib Guilbeau, Thad Maxwell, Larry Kewley, Velton Ray Bunch, Rosey Nix, Sydney Fox
Dolly Parton & John

Note: "There's another side of me" was later recorded by Dutch artist CEES VEERMEN of THE CATS.
John & Mac Davis

In 1977 John went to work for yet another popular singer/songwriter, Mac Davis. Most of the venues with Mac were country and state fairs with occasional dates at the MGM Grand Hotel in Las Vegas and Harrah's in Tahoe. John became close friends with Mac's opening act, a young country singer from Nashville who had recently made the move to Hollywood. Her name was DOLLY PARTON.

When Mac's tour ended, Dolly asked John to join her in her new band. Anxious to leave the Mac Davis job, Beland went on tour with Dolly, who had now become a major superstar with the release of her number one pop hit "Here you come again".

During this time John resumed a heavy session schedule in Los Angeles working for famed producer JIMMY BOWEN. There, John shared the session chores with such notable players as Jim Keltner, Jim Gordon, David Paich, Jeff Porcaro, Dean Parks and Larry Carlton. One of those sessions was:
Dolly Parton & John

Anthony Newley sessions (1977), produced by Jimmy Bowen for the Warner Bros. label.They recorded the John Beland song:
You and me and yesterday

Musicians: John Beland (acoustic guitar), Jim Keltner (drums), Lee Sklar (bass), David Paich (keyboard), Larry Carlton (electric guitar).

Bowen also recorded some of John's songs with country singer Thom Bresh. These two songs "Sad country love song" and "Hey Daisy, where have all the good times gone?" became country hits for Bresh and led Bowen to offer John a solo deal on Big Tree/Atlantic records.

This album was produced by superstar producer Jimmy Bowen but the label folded before the LP came out:
John Beland album - unreleased
- JOHN BELAND: John Beland (Nashville Sessions 1978) (Big Tree BT 76010)
with John Beland, Don Everly, Kim Carnes, the Crickets, Larry Londin, Joe Osborne
Jimmy Capps, David Briggs, Janie Frickie, Sonny Curtis, the Original Memphis Horns.
Just close your eyes (and it's Daniel)
Sleepless nights
Emmy
Who are you fooling
True love never runs dry
If we lived together
Lay a little lovin' on me
Starting all over again
(You better) Hide away
Note: Cover picture for this unreleased Beland album was taken by Norman Seeff who later would shoot the SUNSET/SUNDOWN Burrito Brothers cover.
A few singles were released:
John Beland singles
- JOHN BELAND: Just close your eyes (and it's Daniel)/True love never runs dry (BT 16112)
Background vocals on "True love never ... " were Sonny Curtis, Jerry Allison,
Joe B. Mauldin and Don Everly.

- JOHN BELAND: Emmy/same (promotion copy - BT 16120)
John wrote the national ad campaign for "Hilton Hotels" in 1976 with former Elvis conductor Joe Guercio. He also sang the National Hilton Hotel commercial.
John plays guitar on following Tom Bresh albums:
John Beland with Tom Bresh
- TOM BRESH: Homemade love (John on guitar)
- TOM BRESH: Kicked back (John on guitar and songwriter)
1978 - 1979

John & Rick Nelson

John got a call from Jack Brumley (Rick Nelson's manager) and he offered him a job in Rick Nelson's band. Of course John said yes, he was a Rick Nelson fan, and toured the country with him and appeared on countless television shows. John also played an active part in Rick's recording career as guitarist and arranger. He worked with Rick on an album produced by Al Kooper which featured John Beland, Michael McDonald, Dr. John and a cast of thousands.
The album was never released and as a result Rick decided to make a dramatic move and fly to Memphis and make another album, this time without the influence of the Hollywood "hip" crowd. The only player Rick took with him was John Beland. In Memphis John and Rick worked closely together on the album, selecting meterial and co-writing. They decided to go back to Rick's basic style of recording and feature two styles of music that played an important role in his sound - rockabilly and country/rock. This would turn out to be Rick's favorite album. This album was recorded during the winter of 1978/79 and were intended for album release under the title "Rockabilly Renaissance" but it remained unreleased until 1986 when Steve Buckingham remixed & reproduced the tapes and was then released by Epic records as:
John & Rick Nelson

John Beland with Rick Nelson

- RICK NELSON: Memphis sessions

It would also yield Rick's last chart record, a Beland arrangement of an old Bobby Darin song "Dream Lover". For two years solid, John toured with Rick appearing on such top shows as "Dick Clark's Live" and "Saturday Night Live".
During this time John also did sessions for:
John Beland musician
- KIM VASSY: Do I Ever Cross Your Mind
- MICKEY JONES: She loves my troubles away (also with Thad Maxwell & Al Perkins)
- JESSE PEARSON: We Ain't Down Yet
- LARRY GROCE: Crescentville
- BOONDOGGLE & BALDERDASH: Boondoggle & Balderdash
- BRIAN CADD: Yesterdaydreams (1979)
In 1979 John Beland, Gib Guilbeau and Thad Maxwell with Mickey McGee on drums did a SWAMPWATER reunion and an album was recorded at Criterion studio in L.A. which remained unreleased until 1987 when it was put out by the Italian label Appaloosa:
Swampwater reunion album
- SWAMPWATER: Reunion (Appaloosa AP046 & AK 281)
with: Gib Guilbeau, John Beland, Thad Maxwell, Mickey McGee
guests: Sneaky Pete Kleinow, Charlie Harwood
Songs from those sessions not on the Reunion album:
Birmingham/Somewhere tonight/Tell me it ain't so/True love never runs dry/Cheatin' kind of love/You

Brubaker soundtrack

Note: With the exception of "Birmingham" all other songs were released on the Flying Burrito Brothers "Hollywood nights" CD.

Note: 2004 Akarma Records released the "Reunion" album with two bonus tracks on CD. The bonus tracks are "You" (but that's the same song as "There'll never be no getting over you" which is already on the "Reunion" album - same version) and the second bonus track is "Cheatin' kind of love" which is released on the "Hollywood nights" CD.

John Beland played guitar on the movie soundtrack "Brubaker" with actor Robert Redford. The soundtrack with Gib Guilbeau (singing lead vocals on the song "All for the love of sunshine" - written by Schifrin/Curb/Hatcher), Sneaky Pete Kleinow on steel guitar, James Burton on guitar, Herb Pedersen on banjo, Byron Berline on mandolin etc ... was released on CD 2003 by the Intrada label! (Intrada is a label producing quality movie and television soundtracks on CD since 1985.)
Its a great film with a great bunch of L.A. super pickers playing on the soundtrack:

Brubaker soundtrack
- Soundtrack: Brubaker (Intrada Special Collection Volume 10)
with: Gib Guilbeau, John Beland, Sneaky Pete Kleinow
Herb Pedersen, Byron Berline, James Burton ...

Go to the table of contents again | ............. continue the John Beland biography