GREG HARRIS (Part 4)
The Peace Seekers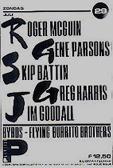 cancelled show

During the summer of 1984 Greg along with Gene Parsons, Skip Battin, Sneaky Pete Kleinow, Ed Ponder and later Jim Goodall replacing Ed Ponder played around California without using any real band name.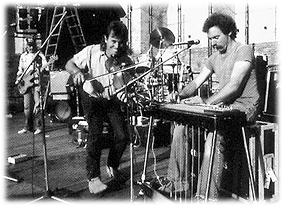 Skip Battin / Greg Harris / Gene Parsons

In July of 1984 using the name "The Peace Seekers" they set out to tour Italy, France, England, Germany and Holland. "The Peace Seekers" were Greg Harris, Skip Battin, Gene Parsons & Jim Goodall. But Greg missed the first couple of shows in Italy through illness and local musician Ricky Mantoan deputized.
The headline artist for the tour was Roger McGuinn who performed a solo set and was then joined by "The Peace Seekers" for a selection of Byrds classic songs to close the show. However after the British leg financial problems caused the band to abandon the tour leaving Roger McGuinn to complete the remaining dates in Germany & Holland alone.

"The Peace Seekers" couldn't really be called a group in the true sense of the word since there was nothing permanent about them. For the European tour they comprised of Skip Battin, Gene Parsons, Greg Harris and drummer Jim Goodall - but there were times in America when Gene would be replaced by Sneaky Pete Kleinow and they would have Ed Ponder on drums.

Gene Parsons remembers: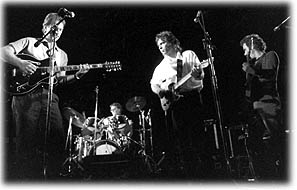 McGuinn / Goodall / Harris / Parsons
"I didn't like the name "Peace Seekers", it sounded too weird! I mean, we all look for peace, but the name makes no sense. We were not really a band with a permanent line-up. We started in the Fall of '83 in California. I defineitely didn't want to be a drummer anymore so we got Eddie Ponder, and for the European tour we've got Jim Goodall. I wasn't supposed to come over to Europe with the band, it was a situation where it was gonna be SneakyPete or me - we can't afford to be a five man band. We also lived so far away from each other, rehearsals were a real problem. We were supposed to have two weeks of rehearsals in Los Angeles for this tour but I drove down to LA from northern California only to learn that Skip hadn't arrived from Oregon!"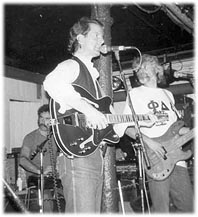 Gene Parsons / McGuinn / Battin

Note: The name "Peace Seekers" only existed during the European tour of 1984!

Although "The Peace Seekers" did not record any studio material several of the shows from the 1984 tour circulate on tape amongst collectors.

"The Peace Seekers" played songs like:

California blues/Bugler/Roll on brother/Down the drain/Streets of Baltimore/Close up the honky tonks/Loretta/Willin'/Lily's hotbread/Lucille/Santa Ana wind/Take a city bride/Don't miss your water/Buy me a Mercury/I shall be released/Foggy Mountain breakdown .......

During that time Greg & Gene Parsons toured together, they wrote a couple of songs as yet unreleased and unrecorded.
One being a song called "Dream Lover" and the other a guitar/fiddle instrumental called "Brittany".

Go to the table of contents again | ......continue the Greg Harris biography