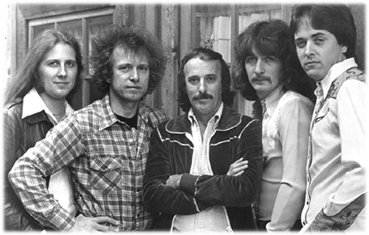 SIERRA / THE FLYING BURRITO BROTHERS
Bobby Cochran, Sneaky Pete Kleinow, Gib Guilbeau
Thad Maxwell & Mickey McGee
THE "SIERRA" PERIOD
March 1977 - December 1977
Band Members
Sneaky Pete Kleinow, Gib Guilbeau, Thad Maxwell
Mickey McGee, Bobby Cochran
A record deal with Mercury was signed and with Felix Peppalardi producing they set about recording an album.
However a surprise was in store when the record was released later in the year because it was not credited to the Burritos but the self titled effort appeared under a new name "Sierra", although from March to December most live shows were still billed as "The Flying Burrito Brothers".
The "Sierra" album was a much more polished production than the Columbia studio recordings with less of a country element and a greater emphasis on rock with the addition of a horn section, no doubt the influence of Peppalardi & Cochran.
All of the songs except one were co-written from within the group and / or producer with Bobby Cochran contributing most of lead vocals with the rest sung by Gib Guilbeau. Another poor selling release with further comment really unnecessary.
But with the Sierra experiment proving unsuccessful Bobby Cochran & Thad Maxwell both leave in December 1977.
SIERRA - Sierra
- SIERRA: Sierra (MERCURY SRM 1179 (US) 1977)

Produced by Felix Pappalardi
Band: Gib Guilbeau, Sneaky Pete Kleinow, Bobby Cochran, Thad Maxwell & Mickey McGee
Guests: Tower Of Power Brass Section, Felix Pappalardi

Tracks:
Gina / Farmer's Daughter / Honey Dew / I Found Love / Strange Here In The Night / I'd Rather Be With You
If I Could Only Get To You / She's The Tall One / You Give Me Loving / Let Me Live
SIERRA - singles
GINA / STRANGE HERE IN THE NIGHT (MERCURY 73966 (US) - 1977)
IF I COULD ONLY GET TO YOU / GINA (MERCURY SFL 2253 (US) - 1977)
Wolfgangs Vault have the following show from the 'Sierra' line-up  available to purchase in both mp3 or FLAC format.
The show recorded in Febuary 1977 is literally days after Bobby Cochran joined the band which is reflected in the varied setlist containing as it does a number of familiar band staples, three from the "Sierra"  album released later in 1977 and some unreleased songs including a rare vocal outing by drummer Mickey McGee on his own composition "Don't You Cry".
THE FLYING BURRITO BROTHERS (SIERRA)
- THE FLYING BURRITO BROTHERS (SIERRA): Franklin Pierce College, Rindge, N.H. - February 21st 1977 (Download the show at "Wolfgangs Vault"!)
Band: Gib Guilbeau, Sneaky Pete Kleinow, Bobby Cochran, Thad Maxwell &Mickey McGee

Tracks: Dim Lights, Thick Smoke / White Line Fever / You Give Me Lovin' / Hot Burrito #2 / It's Alright by Me / Diggi Liggi Li
Rolling In My Sweet Baby's Arms / Don't You Cry / I Found Love / Gina / Toe Tappin' Music / Take A Whiff On Me
Devil In Disguise / Johnny B. Goode / Six Days On The Road / Orange Blossom Special / Truck drivin' man
Go to the table of contents again | ............. continue the Flying Burrito Brothers biography